Parenting and Families | Events
JustFest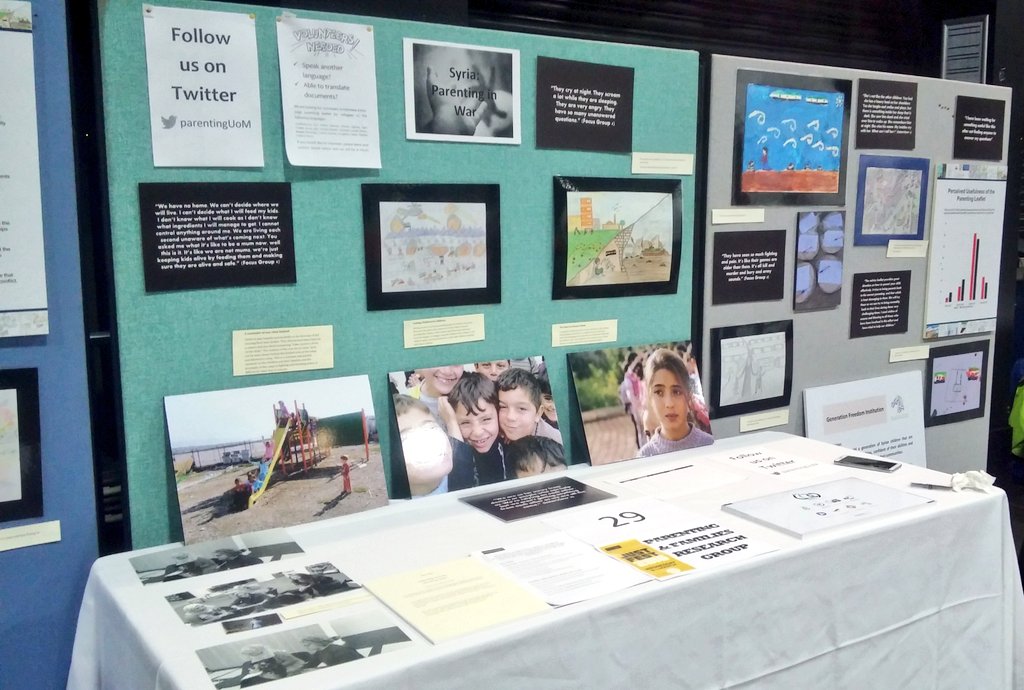 University of Manchester's social justice festival, JustFest, took place on 9 March 2016. We set up a mini exhibition showcasing our work on the Syrian crisis with children's drawings, pictures and quotes. We also highlighted our initiative of an open-source resource page to disseminate our parenting information leaflet. Dr Aala El-Khani presented at a talk, sharing her experience working with refugees and how we can protect the psychological wellbeing of children through parenting support.
Recognise Refugee Rights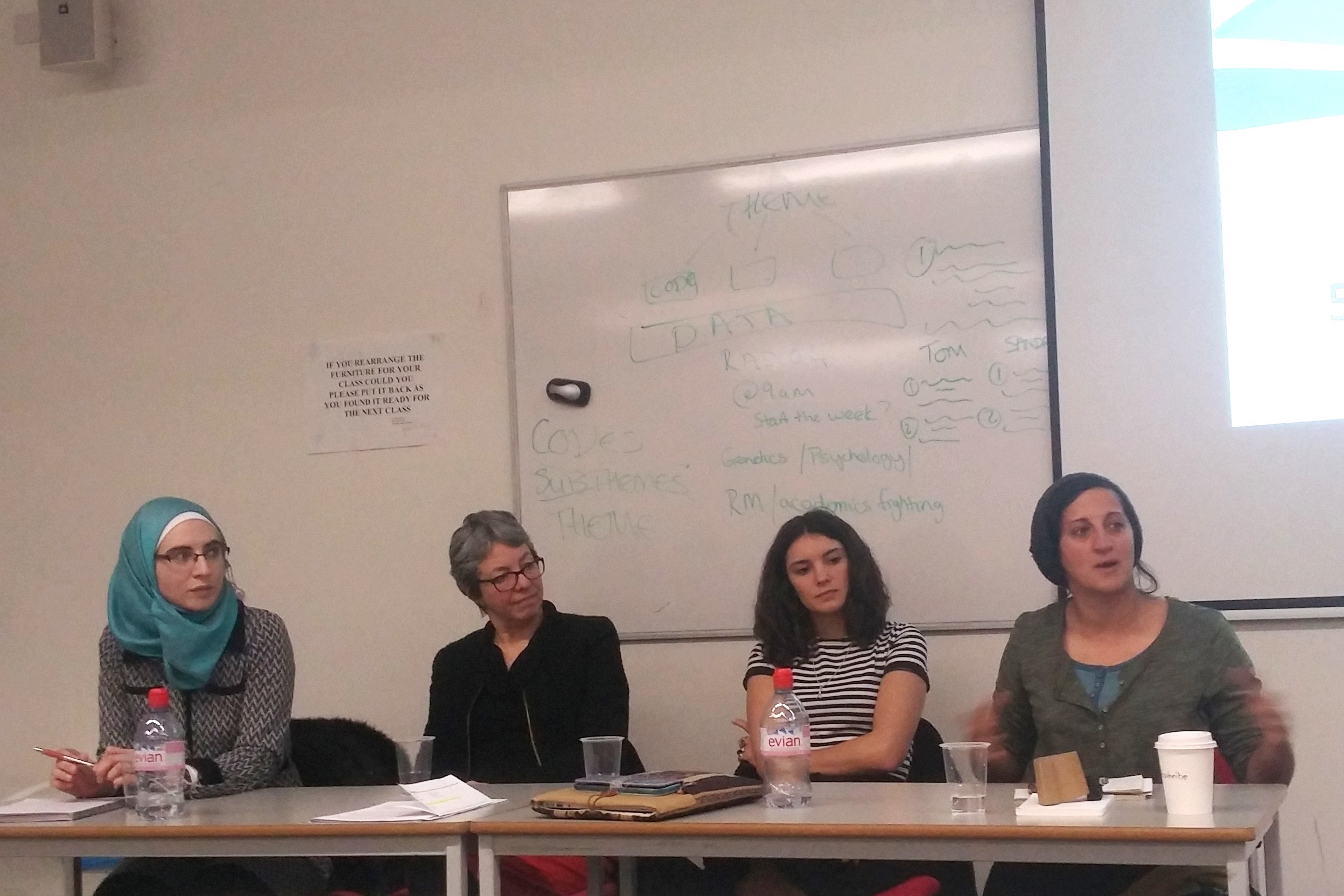 University of Manchester Students' Union launched the Recognise Refugee Rights Campaign, encouraging students to make a real impact on the biggest humanitarian crisis of our time. On 29 February 2016, we were invited to share our insights on the psychological effects of conflict and displacement, and the role of parenting in this context. Our film, Departing:Arrivals, made in collaboration with independent filmmaker Hafsah Naib, was also screened at the event. Along with Hafsah and Yasmine Nahlwai (Rethink Rebuild Society), students engaged in constructive discussions on the conflict in Syria and its impact. Students were keen to contribute and support refugees. We are glad to have taken part in this campaign.
The Big Refugee Debate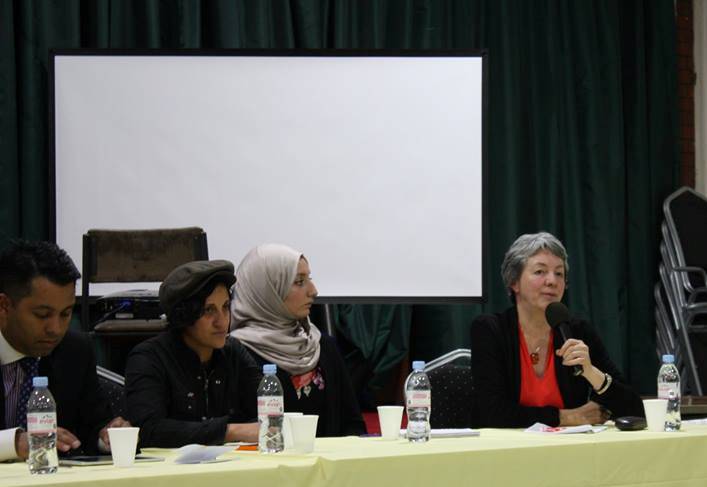 Professor Rachel Calam and Aala El-Khani served as a Panel Speaker at The Big Refugee Debate, along with Sir Gerald Kaufman (Member of Parliament), Tony Lloyd Lord (Mayor of Greater Manchester), Lina Al-Aghbar (Syrian refugee), and Hafsah Naib (independent filmmaker). The event was well-attended on the 7th of October. There was much discussion of Manchester's response to the refugee crisis, with comments from community members and local councilors. Professor Calam and Aala were honored to share their expertise on the psychological impact of war on children.
Pop-up Exhibition @ Distinguished Lecture Series

We were invited to create a pop-up exhibition at the distinguished lecture series featuring Professor Tony Redmond OBE on 22 September 2015. Tony gave an interesting and engaging talk on Manchester's role in shaping the world's response to humanitarian emergencies. Today, the UK national medical response to disasters overseas is co-ordinated through the Humanitarian and Conflict Response Institute, right here at The University of Manchester. We displayed our research on parenting through displacement and conflict due to the Syrian crisis. The scale of the Syrian crisis presents a massive challenge in providing preventive interventions for mental health alongside physical health interventions. Many students and staff attending the event were attracted to the pop-up exhibition. The exhibition was a success and we will continue to explore various ways to further disseminate our work to the general public.
Syria: Reaching Out to Children and Parents of War
An exhibition was put on by The Parenting and Families Research Group and non-governmental organisation Watan from 4th to 6th June at Z-arts in Manchester. Using a variety of media such as film, children's drawings and photographs, the exhibition presented what it is like for children growing up in the Syrian conflict and the hardships of being a parent in this context. Showcasing our research with families on the Syrian-Turkish border, the exhibition demonstrated how parents cope to protect themselves and their children as best they can and ways that families can be supported to build resilience and psychological wellbeing.
The exhibition included children's activities and traditional music and food from the Syrian region. The event was a big success and well-attended. Read more about the exhibition and what those who attended it thought about it.
For further details about the exhibition and planned future exhibitions, contact Aala El-Khani (Aala.El-khani@manchester.ac.uk) or Kim Cartwright (0161 306 0419 / kim.cartwright@manchester.ac.uk).
Raising money to help keep displaced Syrian children in education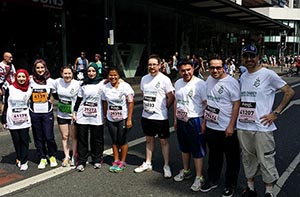 Members of the Parenting and Families Research Group, their friends and family, staff in the School of Psychological Sciences and Syrian members of the community ran 10 km in the Great Manchester Run to raise money to help keep displaced Syrian children in education.
Over 2.8 Million Syrian children are now out of education. We ran to support an educational project that will provide funds to open a school for Syrian refugee children (a Generation Freedom project). It was a hot day, but each and every drop of sweat was worth it as the total raised so far has reached just over £15,500. If you would like to make a donation, please go to Just Giving.
Annual Helping Families Change Conference
The Helping Families Change Conference is held each year to give researchers, practitioners, service planners and policy makers the chance to hear about developments in the Triple P-Positive Parenting Program around the world.
Presentations from past conferences in Brisbane, Australia (Feb, 2013), Sydney, Australia (Feb, 2014), and Amsterdam, The Netherlands (Feb, 2015) are available on the Helping Families Change Conference website.