About us
The Centre for Genomic Medicine brings together clinical investigators, basic scientists and students interested in various aspects of:
Our research encompasses basic molecular studies in developmental biology, cancer genetics and pharmacogenetics through to clinical trials and epidemiology, enabling translation of research from bench to bedside.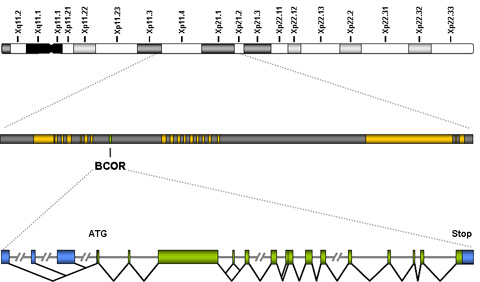 Genes, chromosomes and human disease
BCOR, a gene mutated in human microphthalmia-associated syndromes
Our objectives
The centre aims to maintain high-quality patient-led research programmes and to provide supportive and vibrant academic leadership. These focus on both uncommon, single gene disorders and on commoner complex genetic disorders which together are a cause of significant cause enormous mortality and morbidity within the population.
Facilities
The groupings are focused between a state-of-the-art purpose-built research laboratory and office suites in the AV Hill Building. In addition, a high-quality clinical research facility has been developed on the top two floors of the new Manchester Children's Hospital to enable greater integration between the research groupings in Dysmorphology and Biochemical Genetics. This further fosters interactions between the groups and with the Manchester regional Genetics Service and the Genetics Reference Laboratory. A strong weekly seminar series - including student seminars - ensure interaction among the groups.