News
2015
Meeting and Presentations

Several members of the Blond McIndoe Laboratories attended and presenter their work at the European Association of Plastic Surgeons Research Council Meeting EURAPS 2015, held in Edinburgh, Scotland on May 27-28th, 2015.
Dr Alessandro Faroni, Dr Liam McMorrow and Dr Maham Hadi from Adam Reid's group, presented their work on adipose-derived stem cells for nerve regeneration, whilst Dr Richard Wong and Parviz Sorooshian from Jason Wong's group presented their novel in vivo models for tissue engineering.
Prize and Awards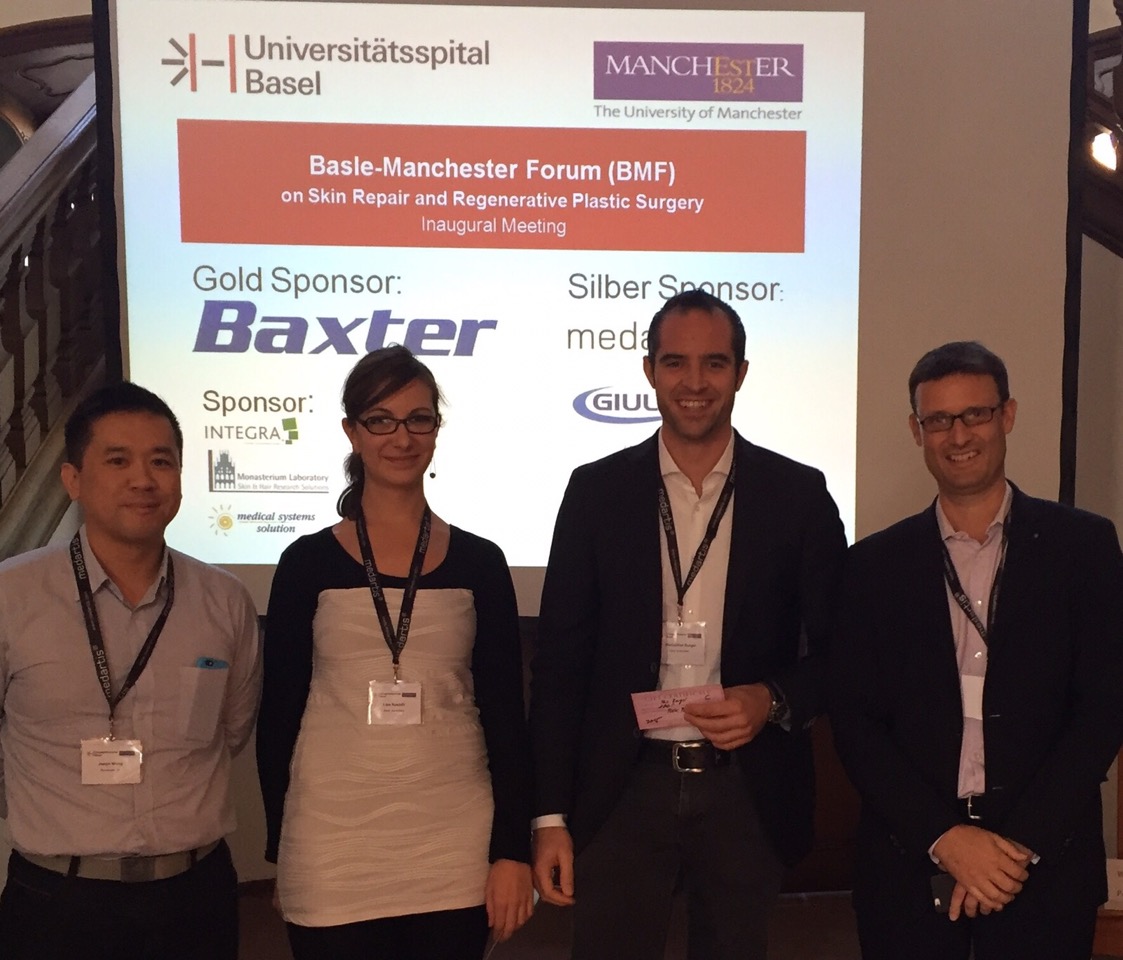 Congratulations to Parviz Sorooshian, previous MRes TERM student, who recently won the "Poster Prize" at the 14th BAPRAS Undergraduate day on the 24th of October with his work on "Development of a tissue fibrosis model on the hindlimb of the mouse"
This month has been a good month of acknowledgement for the research in the "Wong" group as they also won a prize at the Inaugural Basle-Manchester Forum for their work on "A Microsurgical Mouse Model for vascular tissue engineering". This meeting invited a small group of world experts int the field of regenerative therapies for wound healing and was hosted by Professor Ralf Paus, Professor Daniel Kalbermatten (previous Blond McIndoe Fellow) and Dr Ardy Bayat.
Dr Liam McMorrow, an Academic Foundation Year doctor at UHSM, was awarded the Manchester Medical Society Section of Surgery trainees prize for his work "Assessing the potency of CD271-positive adipose-derived mesenchymal stem cells to a Schwann cell-like phenotype". He undertook his academic placement in the Blond McIndoe Laboratories, under the supervision of Dr Adam Reid.
Sarah Martin, an undergraduate student pursuing a research project in the Blond McIndoe Laboratories under the supervision of Dr Alessandro Faroni, was awarded a Neuroscience BSc with a first. During her project Sarah has investigated the role of purinergic receptors in the gene changes observed in dorsal root ganglia neurons following peripheral nerve injury.
Students and visitors
Two new MRes students joined the Blond McIndoe laboratories for their research project within the Tissue Engineering for Regenerative Medicine MRes programme. Mattew O'Hara will investigate the potential of self assembling nanopeptide hydrogels and adipose-derived stem cells for peripheral nerve repair, and Benjamin Kadler will work on developing a 3D in vitro co-culture model of peripheral nerve myelination using biocompatible polymer scaffolds.
Dr Li Lu, from Lanzhou University, China, is joining the Blond McIndoe laboratories, as a visiting scholar for 1 year, investigating the role or purinergic receptors in peripheral nerve myelination. This project is a collaborative effort with professor Alexei Verkhratsky (Faculty of Life Science) and Dr Valerio Magnaghi, University of Milan.
Recent publications
Dorsal root ganglia neurons and differentiated adipose-derived stem cells: an in vitro co-culture model to study peripheral nerve regeneration.
de Luca AC, Faroni A, Reid AJ.
J Vis Exp. 2015 Feb 26;(96). doi: 10.3791/52543.
See: Full Text
Peripheral nerve regeneration: Experimental strategies and future perspectives.
Faroni A, Mobasseri SA, Kingham PJ, Reid AJ.
Adv Drug Deliv Rev. 2015 Mar;82-83:160-7. doi: 10.1016/j.addr.2014.11.010. Epub 2014 Nov 14. Review.
See: Full text
Polymer Scaffolds with Preferential Parallel Grooves Enhance Nerve Regeneration.
Mobasseri A, Faroni A, Minogue BM, Downes S, Terenghi G, Reid AJ.
Tissue Eng Part A. 2015 Mar;21(5-6):1152-62. doi: 10.1089/ten.TEA.2014.0266. Epub 2015 Jan 19.
See: Full text
2014
Recent publications
These are the most recent publications from the group with links to access to the full texts:
Adipose derived stem cells and nerve regeneration.
Faroni A, Smith RJ, Reid AJ.
Neural Regen Res. 2014 Jul 15;9(14):1341-6. doi: 10.4103/1673-5374.137585. Review.
See: Full text
Nerve regenerative effects of GABA-B ligands in a model of neuropathic pain.
Magnaghi V, Castelnovo LF, Faroni A, Cavalli E, Caffino L, Colciago A, Procacci P, Pajardi G.
Biomed Res Int. 2014;2014:368678. doi: 10.1155/2014/368678.
See: Full text
Deletion of GABA-B receptor in Schwann cells regulates remak bundles and small nociceptive C-fibers.
Faroni A, Castelnovo LF, Procacci P, Caffino L, Fumagalli F, Melfi S, Gambarotta G, Bettler B, Wrabetz L, Magnaghi V.
Glia. 2014 Apr;62(4):548-65. doi: 10.1002/glia.22625.
See: Full text (subscription required)
Purinergic signaling mediated by P2X7 receptors controls myelination in sciatic nerves.
Faroni A, Smith RJ, Procacci P, Castelnovo LF, Puccianti E, Reid AJ, Magnaghi V, Verkhratsky A.
J Neurosci Res. 2014 Oct;92(10):1259-69. doi: 10.1002/jnr.23417.
Read it here (subscription required)
Schwann cell interactions with polymer films are affected by groove geometry and film hydrophilicity.
Mobasseri SA, Terenghi G, Downes S.
Biomed Mater. 2014 Aug 28;9(5):055004. doi: 10.1088/1748-6041/9/5/055004.
Patrick Smith joins the Blond McIndoe lab
Patrick Smith joins the Reconstructive and Aesthetic Surgery research group.
The newest addition to our lab is PhD student Patrick Smith who will be working on improving fat grafting surgeries through the use of adipose-derived stem cells. Patrick is supervised by Dr Adam Reid and his PhD is funded by The Healing Foundation and The Blond McIndoe Charitable Trust.
Evgeny awarded best presentations awards
Mr Evgeny Kushnerev won two bursaries to present his PhD work; an academic poster at the International Association of Dental Research conference in Cape Town June 2014 and an oral presentation in Boston March 2015.
Mr Kushnerev has been awarded with Friends of The Hebrew University Prize for the best postgraduate research student oral presentation and 1st place postgraduate research showcase peer reviewed presentation prize on 12th of June and 11th of September 2014, respectively.
Meetings and presentations 2014
Manchester Royal Eye Hospital Bicentenary Conference - Susan Shawcross and Chantal Hillarby presented their work at the Conference in July 2014.
The International Association for Dental Research (IADR) - Evgeny presented his work at the IADR General session meeting, which took place at the Cape Town International Convention Center in Cape Town, South Africa (June 25-28, 2014).
European Society of Plastic, Reconstructive and Aesthetic Surgery (ESPRAS) - Dr Atefeh Mobasseri, Alessandro Faroni and Kavan Johal attended the 12th Congress of ESPRAS, held at the Edinburgh International Conference Centre from Sunday 6 – Friday 11 July 2014. They presented their work with oral presentations.
2013
The Blond McIndoe Laboratories celebrate the first ten years
December 2, 2013
The Neville and Elaine Blond Charitable Trust continues to be a major supporter of the Blond McIndoe Laboratories at the University of Manchester. In order to celebrate the first decade of scientific excellence, Peter and Virginia Blond hosted a wonderful event with the Halle Orchestra at the Bridgewater Hall, Manchester.
The special reception was attended by the Dean of the Faculty of Medical and Human Sciences and Vice President of The University of Manchester Professor Jan Jacobs. Professor Gus McGrouther, Professor Ashley Woodcock and Professor Jane Worthinghton were representing the Blond McIndoe Laboratories and The Institute of Inflammation and Repair.
The event was also attended by 100 other senior alumni, friends and supporters in celebration of the first decade of groundbreaking medical research taking place in Manchester and in memory of the Blond and Marks families.
2nd International Symposium on Peripheral Nerve Regeneration
November 29, 2013
23-25 January 2014, Turin Italy. Atefeh and Alessandro will be attending the 2nd international symposium on Peripheral nerve Regeneration to be held in Turin in January 2014.
See the program of the meeting on the official website.
Peripheral nerve group award
November 29, 2013
The peripheral nerve group with collaborators at the School of Biomaterials have been awarded a NIHR i4i grant to continue work on their innovative biomaterial peripheral nerve conduit. This project will be led by Dr Adam Reid and Dr Julie Gough (Materials) and builds on a previous grant from i4i held by Prof Giorgio Terenghi and Prof Sandra Downes (Materials). Our aim is to develop the material over 2 years before performing a First in Man study on nerve injured patients.
Atefeh has devoted 3 years of work towards developing a novel PCL/PLA polymer material with specific microstructural patterning which will assist in the regeneration of nerves. This new award will allow Atefeh to continue her work over the next 2 years towards manufacturing a material which can be used in patients with a nerve injury. She will work alongside Alessandro who will perform experiments on the interaction of this material with regenerating nerves in culture conditions.
Bapras Winter Scientific Meeting 2013
November 27, 2013
At the invitation of the Healing Foundation, Kavan was a guest speaker at the BAPRAS-IAPS Winter Scientific meeting 2013 in Dublin and presented his latest results which led to a fruitful discussion among the plastic surgeons and scientists in attendance.