Clinical Vascular Research
Manchester has an international reputation for research in vascular surgery and cardiovascular disease. This research is based on close collaboration between over 20 vascular surgeons and interventional radiologists and the research facilities offered by the Institute of Cardiovascular Sciences. Manchester offers an unrivalled opportunity to deliver the surgical academic and educational workforces of the future through collaboration with the Cardiovascular Biosciences and colleagues throughout the UK and Europe.
Research income over the last decade, from the Medical Research Council (MRC), Wellcome Trust, British Heart Foundation, Alzheimer's Society and the National Institute of Health Research (NIHR) has totalled over £6M with approximately 100 papers published on original research.
Fourteen fellows have completed PhD's or MD's, some were aspiring academics in vascular surgery but others in cardiology, stroke medicine, or the biosciences.
Vascular surgeons give their cardiovascular biology colleagues access to patients with atherosclerosis, carotid disease, aortic aneurysm, venous disease and any vascular pathology they wish to study. Surgery offers a window to living vascular pathology with the Academic Unit in Manchester uniquely placed for the 4.5M people within 30 minutes of our teaching hospitals.
The North West Vascular Governance Programme (VGNW) provides access to a database including over 17,000 patients who have undergone carotid endarterectomy or abdominal aortic aneurysm repair. We have the biggest, and we believe the best, vascular laboratory in the UK undertaking over 60,000 investigations a year and with access to the latest 3D tomographic ultrasound imaging.
Principal Investigator
Research Strategy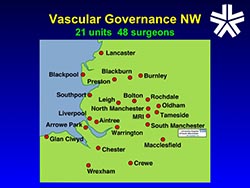 Our vascular research extends well beyond the limits of vascular surgery and encompasses the following themes:
The prediction of stroke risk in carotid disease focussing on carotid plaque volume, morphology, platelet resistance and circulating biomarkers.
The development of an algorithm calculating individual patient indications for AAA repair based on our risk prediction models for perioperative mortality (The British Aneurysm Repair Score or BAR Score) and on predicting both survival and life expectancy.
Our AAA studies now focus on whether measuring aneurysm wall stress by 3D ultrasound tomography may predict AAA growth and risk of rupture.
The Manchester CPET Study Group (Cardiopulmonary Exercise Testing) has published on how CPET predicts perioperative morality and long-term survival. We are now exploring whether exercise training, in collaboration with David Lloyd Leisure, can reduce perioperative complications and possibly improve survival.
Having established the role of microemboli in the causation of dementia, we have completed a clinical trial confirming that clopidogrel and statins inhibits cerebral emboli in dementia subjects. We are now exploring microemboli and small artery disease in Parkinson's disease.
The Manchester Pelvic Vein Study Group was set up to explore symptoms suffered by women with pelvic vein incompetence (PVI) which affects 15-20% of all women.
The role of PVI in chronic pelvic pain syndrome (30% of all gynaecology outpatient appointments) is being studied. We have developed a transvaginal ultrasound technique to detect PVI reliably.
Our leg ulcer research team are launching a national study on engineered compression stockings for the treatment of venous leg ulceration. We intend to focus on primary prevention of venous ulceration rather than further treatment trials.
(Image: Vascular Governance North West is a collaboration of 48 surgeons in the North West who now have a database of over 17,000 carotid and aortic aneurysm repair procedures. This database allowed us to develop the British Aneurysm Repair Score predicting the risk of perioperative mortality).
Impact on UK Healthcare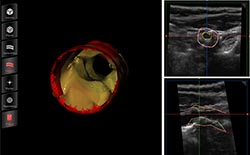 Our research on leg ulcers lead to the roll out of community leg ulcer clinics using four layer bandaging (4LB) for the treatment of leg ulceration in the elderly. This is the current UK gold standard but we are now applying for a major grant to undertake a national multicentre RCT exploring whether 4LB should be replaced by engineered compression stockings (ECS). ECS were developed in a unique collaboration between Vascular Surgery and the Department of Textiles here at UoM. This technology has been licensed to a UK SME.
Our unusual collaboration with Old Age Psychiatry established the role of cerebral emboli in both Alzheimer's disease and vascular dementia; we showed that patients with high cerebral emboli counts suffered more rapid deterioration. We are about to publish a pilot RCT showing that clopidogrel and statins inhibit cerebral emboli in dementia suffers. Our current research is focussed on cerebral emboli and small artery intimal thickness in Parkinson's disease.
Having negotiated with the Department of Health and other national bodies for 15 years, we achieved population screening for abdominal aortic aneurysm in Manchester as a pilot for national screening. We hope that our research on stroke risk in carotid disease will lead to population screening based around carotid plaque volume.
(Image: A 3D tomographic image showing the inside of a carotid artery with a large carotid plaque. Our tomographic ultrasound system automatically measures the volume of the plaque which we believe predict stroke risk.)