PRECISE: Proton Research at the Christie and Institute of Cancer SciencEs
Lead: Karen Kirkby
Proton research underpins the NHS investment of £125m in one of the UK's two clinical proton therapy centres. This is a multidisciplinary research activity bringing together research in the University (Institute of Cancer Sciences, Physics, Chemistry, Mathematics, Computer Sciences, Engineering and Health Economics.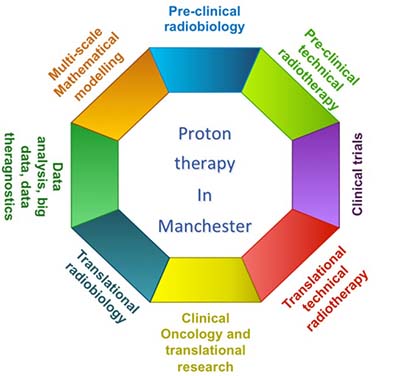 The aim of the research is to develop a pipeline going from basic research, through preclinical to translational research and clinical trials all of which are designed to improve the benefits to patients and reduce toxicity and other side effects.
The research is built around the research room which is being developed in parallel with the clinical treatment facility. This will allow experiments to be designed in a modular fashion, allowing maximum flexibility and optimum use of the beam time available for research. Experiments will be wide ranging and conducted in areas such as: dosimetry; detectors, treatment planning; radiobiology; combined treatment methodologies; imaging; accelerator development.