Cross-cutting themes
Computational Oncology
Lead: Norman Kirkby
Computational oncology is one of the cross cutting themes within the Centre for Radiotherapy Related Research (RRR). It is a collaboration between clinical cancer researchers and those in engineering and physical sciences. The group have already pioneered a number of innovative approaches to solving cancer problems by actively working together drawing expertise from each other's disciplines to create novel solutions.
Mathematical models provide an opportunity to perform experiments which cannot be done clinically, either for methodological or ethical reasons. They also provide a method for extracting clinically-relevant biological information from population data.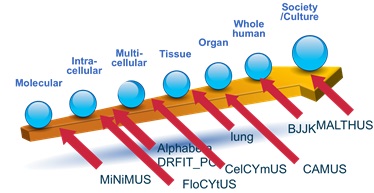 Multi-scale modelling
The multi-scale modelling activity goes from models that work on the molecular scale right through to those that emulate the clinical decision making process and address national and societal issues. The arrows in the diagram indicate the models that currently exist and where they fit on the multi-scale activity.
Theragnostics
Lead: Corinne Faivre-Finn
Theragnostics is a rapidly growing area of research and uses the large amount of data now available in fields such as imaging, diagnostics and outcomes and combines them with new developments in data mining and web technologies to extract additional data that can be used to both diagnose and more effectively treat the patient. It also enables models to be developed for more effective treatment and enables this to be tailored to the needs of the individual.
Advanced Radiotherapy
Lead: Ranald Mackay
This theme encompasses new developments in radiotherapy such as MRlinac and protons which draw on strengths from the main research groups within the Centre for Radiotherapy Related Research.