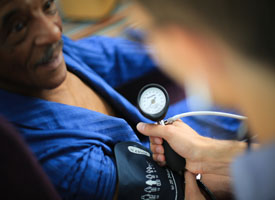 About the Centre
We are pleased to announce that £6.69million has been awarded to The University of Manchester along with its fellow MAHSC partner, Salford Royal NHS Foundation Trust (SRFT), to create a city-wide early translational patient safety research programme from 2017-2022, building on the existing PSTRC.
The Greater Manchester Primary Care Patient Safety Translational Research Centre (Greater Manchester PSTRC) is funded by the National Institute for Health Research (NIHR) for five years (£6,291,208 from August 2012) and works on behalf of Salford Royal NHS Foundation Trust, in partnership with The University of Manchester.
It is a unique and groundbreaking centre, with a strong patient and public involvement and engagement agenda.
Covering four main research themes,
the centre makes the University of Manchester a world leader in primary care patient safety research.

View: Video: Professor Stephen Campbell
The centre's Principal Investigator introduces the NIHR Greater Manchester PSTRC.
Tweet a link to the Greater Manchester PSTRC website
Why focus on patient safety in primary care?
All patients are entitled to access safe and effective health care. Avoiding errors, or identifying and correcting them, is a high priority.
Examples of how we are making care safer include:
Reducing prescribing errors through digital solutions
The PINCER safety indicators have been included in the NHS England Medicines Optimisation Dashboard and could prevent 1,375 serious harms per year, saving the NHS over £3million annually.

Used a Medication Safety Dashboard as a missed opportunity detector, which has already resulted in fewer patients at risk of potentially hazardous prescribing (p=0.0024).
Reducing patients at risk from prescribing
Reducing suicide rates
Testing new ways of using mobile technology to deliver safer care
Provided an innovative new way of supporting people with psychosis, a serious mental health disorder, that affects one in every 100 people, to increase their self-efficacy (ClinTouch) which won the Outstanding Innovation category of the SEE Change Awards for Social Entrepreurship.
Making people with multimorbidity feel safer
We have co-designed an online module on healthtalk.org for people living with multimorbidity about the challenges they experience.
Health Data
Put 'health data on trial' investigating public attitudes to data sharing with the results presented to a high level delegation including the National Data Guardian (Dame Fiona Caldicott) and the All-Party Parliamentary Group on Medical Research.
Publication of papers in key high impact journals
15 percent of publications were in journals with an impact factor of 10 or greater, 35 percent were in three of the highest impact journals (the New England Journal of Medicine (NEJM), Lancet, BMJ), and 50 percent are in the top 10 percent of journal percentiles (SJR ranking).
Patient Safety Toolkit
We have co-designed and tested a Patient Safety Toolkit for general practices that is important in preventing patients from being harmed.
How do we share our research findings?