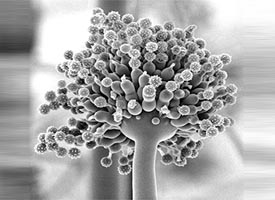 About us
The Manchester Fungal Infection Group (MFIG) is a new international centre of excellence for fungal infection biology and translational antifungal research at the University of Manchester. It is integrating its research with that of clinicians and industry.
Our Mission
To understand and reduce the burden of human fungal diseases
Get in touch
(Image : Asexual structures of Apergillus niger)
Our Research
Using the human pathogen Aspergillus fumigatus as our main experimental system, MFIG's research is focused on four integrated themes:
Fungal cell biology, Host-pathogen interactions, Genetics and genomics and Antifungal drug discovery
Learn more about us in our downloadable MFIG booklet
MFIG in the Scientific Community:
Major MRC funding to Prof Elaine Bignell to study secreted effector proteins during infection

Novel Fluorescent Dyes Licensed to Cambridge Research Biochemicals

MFIG Director Nick Read has worked in collaboration with academic partners at the The University of Edinburgh (Dr Marc Vendrell), University of Barcelona and IRB Barcelona (Professor Rodolfo Lavilla) to develop dynamic activatable fluorophores, specially developed to enable fluorogenic labelling of peptides for enhanced live-cell imaging.

Major Wellcome Trust Funding to Dr Michael Bromley & Colleagues,

Drs Michael Bromley, Paul Bowyer and Prof Daniela Delniri have been awarded a Wellcome Trust Biomedical Resources Grant. 'The Aspergillus fumigatus gene and non-coding RNA knockout library'

N8 AgriFood funding to Michael Bromley& Colleagues

Dr Mike Bromley and colleagues have been awarded £40, 000 to improve the Biocontrol of Aflatoxin Production in Maize. £40,000.

British Society for Antimicrobial Chemotherapy Funding for Drs Jorge Amich & Elaine Bignell

Dr Jorge Amich and Dr Elaine Bignell have been awarded a 4 year PhD studentship, from the British Society for Antimicrobial Chemotherapy (BSAC), to study fungal methionine syntheses as novel antifungal drug targets.

MRC Confidence in Concept Funding to Dr Mike Bromley

Dr Mike Bromley has been awarded a 12 month MRC Confidence in Concept Award to study the efficacy of DNA minor groove binders as novel antifungal agents

Two visiting Erasmus students have joined the group until December 2017: Daiana Macedo and Maria Corrochano Luque.

Press Releases :

Profs David Denning and Malcolm Richardson speak to the CDC on antimicrobial resisrance.
MFIG director prof Nick Read signs deal with Merck for pioneering fluorescent probe technology.