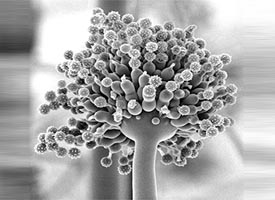 About us
The Manchester Fungal Infection Group (MFIG) is a new international centre of excellence for fungal infection biology and translational antifungal research at the University of Manchester. It is integrating its research with that of clinicians and industry.
Our Mission
To understand and reduce the burden of human fungal diseases
Get in touch
(Image : Asexual structures of Apergillus niger)
Our Research
Using the human pathogen Aspergillus fumigatus as our main experimental system, MFIG's research is focused on four integrated themes:
Fungal cell biology, Host-pathogen interactions, Genetics and genomics and Antifungal drug discovery
Learn more about us in our downloadable MFIG booklet
MFIG in the Scientific Community:
Drs Jorge Amich and Elaine Bignell present at the Human Fungal Pathogen Advanced lecture course in La Colle-Sur-Loop.

Dr Margherita Bertuzzi wins best oral presentation prize at BSMM 2017 in Birmingham. Sergio Velasques also gave a talk.

MFIG deputy director Dr Elaine Bignell's work on transcriptomics is recognised as exemplar research to represent the field of mycology in PLOS Pathogens: 10 year anniversary collection.

Drs Margherita Bertuzzi and Elaine Bignell are awarded an MRC Discovery Award in Single Cell Analysis to study the antifungal potency of the airway epithelium in health and disease.

Dr Sara Gago is awarded an NC3IR fellowship award to develop new experimental models to understand the genetic basis of ABPA.

Dr Margherita Bertuzzi presented data at the Gordon research seminar and conference in Galveston, USA.

MFIG celebrates diversity of fungal science with "Fungi: friend or foe" exhibition at Science Spectacular and marks 25 years of Fungal Infection Trust.

Dr Peter Cook presents data at the MRC Centre for Medical Mycology at the University of Aberdeen on "Defining key checkpoints in dendritic cell control of anti-fungal immunity and inflammation".

Dr Elaine Bignell presented at IFoFun-2016 Virulence Mechanisms of Phyto- and Human-Pathogenic Fungi meeting in Erlangen, Germany.

Dr Fabio Gsaller presented a talk and won the poster prize at the German Mycological Society meeting in Essen, Germany.

Dr Elaine Bignell speaks at the Royal Society's 'Tackling emerging fungal threats to animal health, food security and ecosystem resilience' meeting.
Press Releases :
Collaborations:
Dr Sylvain Brun (University of Paris Diderot) visits MFIG for 6 months to learn advanced live-cell imaging techniques in Nick Read's lab to study nuclear movments
during Neurospora crassa fertilization.
MFIG welcomes Professor Michelle Momany (University of Georgia) to Manchester on a Royal Society-funded Exchange Scheme (Momany/Bignell).
Dr Maiko Umemura visits MFIG as a visiting researcher from Sapporo, Japan to join the Bignell lab.
Recent Papers:
R