Blog posts from 2017
Visitors "hooked" on Health Psychology at the University Community Festival
13th July 2017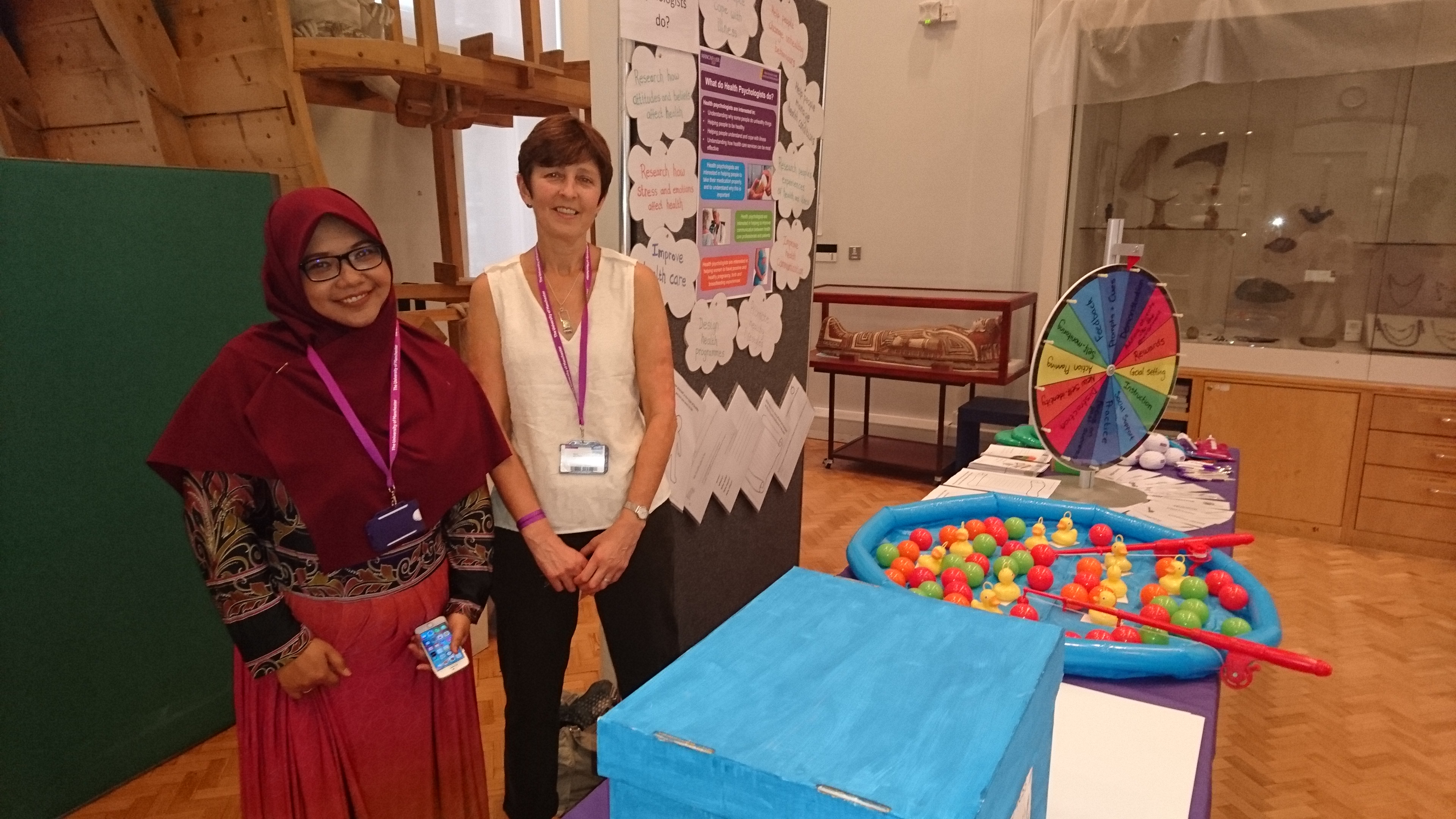 Masters student Denisa Apriliawati and Prof. Alison Wearden before the crowds arrived!
Entire families and an unexpected number of children came on the 17th of June to the University of Manchester's Community Festival held at Manchester Museum and other buildings across the Oxford Road campus. They were eager to discover what the University had in store, and our Manchester Centre for Health Psychology (MCHP) stand welcomed them all with suitable activities for the little ones and for their parents. The children were driven by curiosity and they were moving from stand to stand, trying new things and searching for something interesting to attract their creative minds.
These little scientists, wandering all over, were captivated by the "feely box". This mysterious blue box was full of objects that were healthy or unhealthy and children had to find one, guess what it was and then think if it was unhealthy, healthy or ambivalent. Some of the more confident children guessed immediately, others were trying to take a peek. For some the broccoli was quite difficult to identify, while the skipping rope was an easy guess. When asked to think if the object was harmful or not to their health, the shy ones looked to their parents for guidance or a hint, or maybe for courage to speak up. One girl assured herself the box was safe by making us try the box first. It was a good opportunity for parents to talk to their children about healthy eating and exercising, but also for other dangers such as alcohol or sun exposure. As we were waiting for the answers there was a tacit understanding between the children and their parents, a "We've talked about this" look, "You know this", showing that the parents had often already approached these issues with their families. Sometimes the little ones did not know the answers and so the parents taught them what was healthy, and possibly learned that they could focus on forming healthy habits, beliefs and a concern for health from an early age.
The "hook-a-duck" fishing game was also a major attraction for kids as they tried to catch a plastic duck with a fishing rod. On the bottom of the ducks were written some factors that influence behaviour change. Children and parents worked together, the kids catching the duck while the adults contemplated what hinders or helps them to introduce or abandon positive and negative health behaviours.
Another game, the "wheel of fortune" style spinning game was also fascinating and while children would have spun it all day, adults were really interested in seeing what they would land on. We asked adults what health behaviour they would like to change in their lives and the wheel showed some techniques used by Health Psychologists that help people to change their behaviours. While some claimed there was nothing they wanted to change, many were interested in how to eat more healthily, to exercise, and how to manage their time better. One mum was interested in how these methods could be applied to educate children. Most adults understood the theory but wanted more practical examples suited to their lives and particular problems. It was an exciting challenge to try and help them put the hypothetical behaviour change techniques into practice.
Free Manchester Centre for Health Psychology water bottles, frisbees, pens and brain-shaped stress balls were given to visitors, and pre-made action planning and goal setting worksheets were available to help people try out some of behaviour change techniques at home. The children were happy to receive coloured smiley face stickers and even some adults indulged in this little pleasure!
Even though Health Psychology is not widely known among the general public, most of the families were searching for solutions to health challenges. Our hectic lives make it hard to find time to keep ourselves healthy, and this event showed that the public is interested in a health psychology approach. The MCHP stand at the Community Festival gave visitors a chance to discuss and explore ways of tackling everyday obstacles to achieving healthy lifestyles, and also how to talk about these issues with children. I found exciting this hands-on experience that put me in touch with the public and I consider it to have been useful not only for the families, but also for me as a student as I have seen that psychological theory and techniques are good, but people need more in-depth input to overcome the particular health challenges in their everyday lives.
Words by Maria Ichim, Psychology undergraduate student
Edited by Elaine Cameron
See our Gallery for more photos from this event and other MCHP activities.
Katie completes her health psychology internship at MCHP
9th June 2017
For the past year we have been lucky to have Katie Coppack working alongside us as an intern at Manchester Centre for Health Psychology. Katie has been a real asset to the centre and we wish her well in completing the final year of her undergraduate degree over the coming months. Before she leaves, we asked her to tell us about why she chose to do an internship and what she has learned here at MCHP.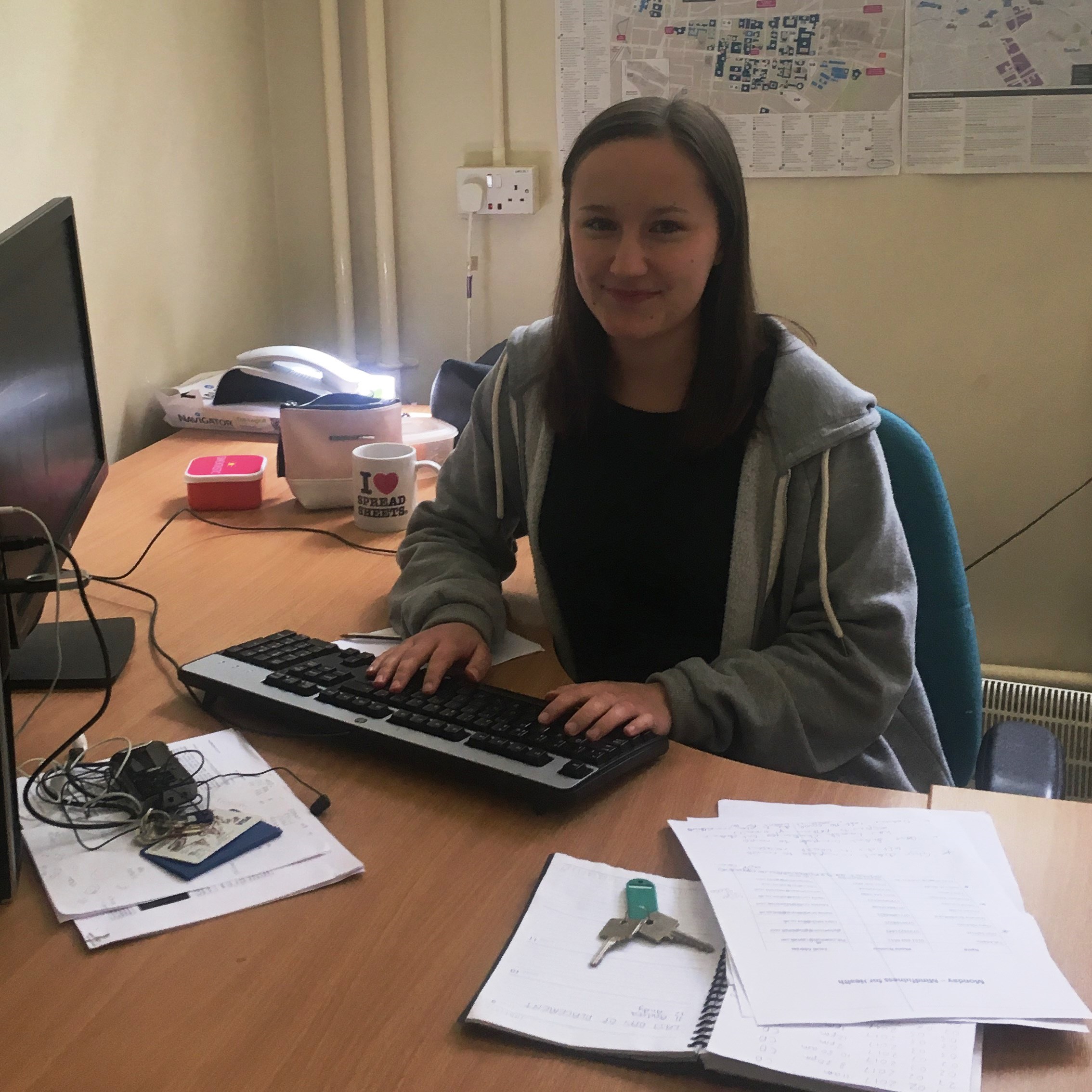 Hello, my name is Katie Coppack and Im a soon-to-be 3rd year psychology undergraduate student at the University of Manchester. For the past 9 months I have undertaken a full time placement here at Manchester Centre for Health Psychology (MCHP), working for Professor Alison Wearden and Dr Debbie Smith. For the cohort of psychology students starting in 2014 this was the first time a placement year was available, to be completed between 2nd and 3rd year. With the competitive nature of psychology and the demand of employers to have research experience I knew straight away this was something I wanted to do. Furthermore, I am particularly interested in pursuing a career in health psychology and was aware that right on my doorstep was a brilliant network of researchers that make up MCHP I couldnt miss this great opportunity!
During my placement I have:
Been involved in 5 research projects
Including qualitative and experimental studies, a systematic review, and a feasibility study
Transcribed interviews for 4 different projects
With healthcare professionals and with people with different long-term health conditions
Been involved in 3 public engagement/widening participation events
Including the Economic and Social Research Council's Festival of Social Science and Psychology at the University of Manchester experience days with GCSE and A-level students
Attended 2 conferences
Manchester Academic Health Science Centre: Prevention and Early Detection Showcase
Maternity, Midwifery & Baby Exchange 2016
Shadowed a Health Psychologist in the Pain Team at Manchester Royal Infirmary
As you can see, the variation of work has been fantastic and I have learnt so much, including:
What the process of research is like from start to finish
What the job of a research associate in a university is like day to day
What current research is being done through my own involvement and MCHPs monthly seminars
About lots of different health conditions through transcribing
How to analyse qualitative data
How to conduct good interviews through my own practise and listening to interviews
What the role of a Health Psychologist looks like in real settings
The placement has only furthered my interest in health psychology and I aim to take the Health Psychology Masters upon finishing my degree. I think the experiences Ive had are invaluable and can only highly recommend such placements as you gain real insight into what that the job area is like and skills in more depth than the degree programme offers.
Words by Kathryn Coppack (Psychology undergraduate student)
Well done to all MCHP runners!
1st June 2017
Several members of MCHP took part in the Great Manchester Run on Sunday 28th May, completing either the half marathon or the 10K course as part of the University of Manchester's "purple wave".
Some were running their chosen distance in a timed event for the first time, while others broke new personal best records. The runners commented on the tremendous turn-out and support of the crowds on the day, and were able to raise money for some excellent charitable causes.
A huge well done to our MCHP racers and all the other runners from University of Manchester!
See more information and how to sign up for the race in 2018 here: http://www.sport.manchester.ac.uk/fitness/manc10k/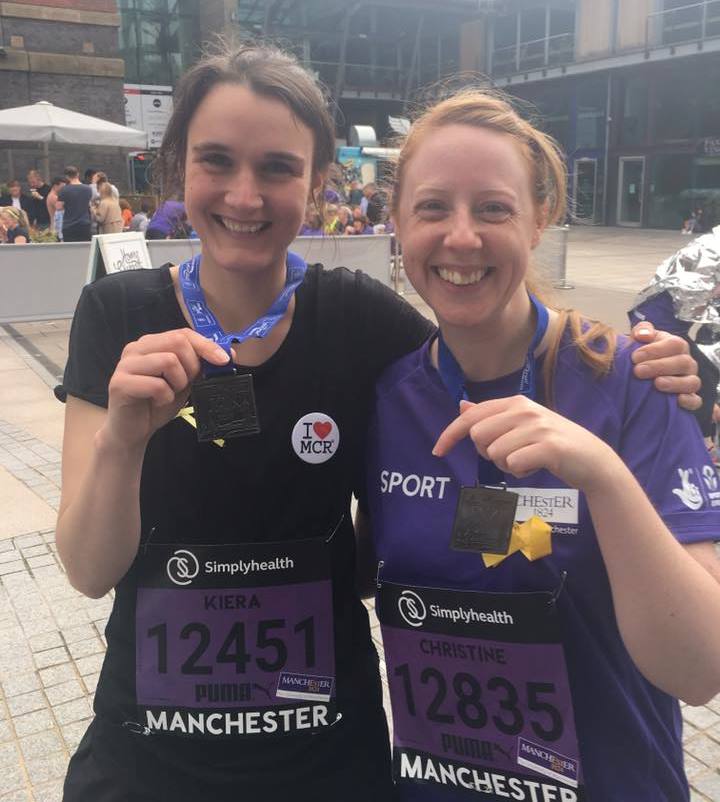 Kiera Bartlett and Christine Rowland with their 10K medals
An introduction to Health Psychology at the University of Manchester
1st May 2017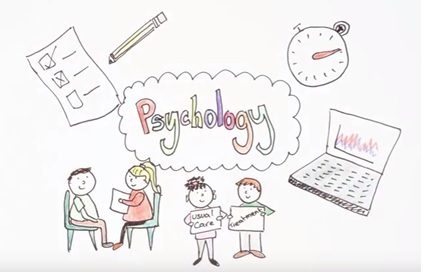 Last month the Faculty of Biology, Medicine and Health uploaded to their YouTube channel an animated introduction to research at the Manchester Centre for Health Psychology (MCHP) as part of their "Minute Lecture" series. These short videos are designed to introduce the public to the diverse work being carried out across the Faculty.
A small team of researchers from MCHP contributed to the script, animation ideas and narration, while the Faculty team provided the audio-recording and animation expertise.
This two minute summary is a great introduction to the kinds of research we do here at MCHP and to Health Psychology in general, making it ideal for sharing with prospective students, study participants and collaborators who might be interested in finding out more about Health Psychology research.
Find our video at the following link, and tag us in your Tweets using the handle @ManHealthPsych
Video narrated by Eleanor Bull
Huge contribution of family carers for people with cancer at the end of life
7th April 2017
Research by MCHP member Dr Christine Rowland and colleagues at the Universities of Newcastle and Groningen, led by Professor Gunn Grande in the Division of Nursing, Midwifery and Social Work and the NIHR CLAHRC programme for Greater Manchester, has revealed that family members of people with terminal cancer devote around ten hours per day to providing care and emotional support, and spend around £370 in the last few months of life on necessities for their care and comfort. This study is the first to quantify on a national scale the huge contribution of family caregivers, which may come at a cost to their own health and wellbeing.
The research has been published in Palliative Medicine and was discussed by Prof. Grande on BBC Breakfast and BBC Radio 4's Today programme on Monday, April 3rd.
Read the full blog on this illuminating study written by Christine here:
http://clahrc-gm.nihr.ac.uk/2017/04/dimbleby-came-breakfast-talking-end-life-care-bbc/
And the university press release (with link to the journal article) here:
http://www.manchester.ac.uk/discover/news/new-study-reveals-huge-contribution-of-carers-of-terminally-ill/
MCHP do British Science Week!
5th April 2017
As part of British Science Week, the University of Manchester hosted a schools science fair to enthuse and inspire young people about science. Staff and students from the Manchester Centre for Health Psychology (MCHP) welcomed over 1000 pupils over four days to talk about our work, and got pupils thinking about health behaviour change with interactive activities.
Pupils enjoyed rummaging for items in the very popular 'feely box' (after being assured that there were no creepy crawlies in there!) and then matching the item to the health consequence. This generated lively discussion of information about consequences as a behaviour change technique - secondary school pupils in particular said that they valued thinking about why they would choose to perform behaviours, rather than being lectured to do something "just because"!
The 'Health Psychologists' Toolkit' was also used to get pupils thinking about what might help or hinder them from changing behaviours, from being more physically active to eating less junk food. Spinning the ever-popular 'Wheel of Behaviour Change', pupils discussed the applicability of different techniques. Social support was a favourite, and pupils also came up with their own creative ideas such as using YouTube for demonstration of exercise routines and healthy recipes. Some very determined young people took away 'Action Plan' handouts to put what they'd learnt into practice!
Budding psychologists also had lots of questions about going on to study psychology at university, and there was even a debate between two pupils about whether psychology is a science - one replied "Of course its a science - they're at a science fair!" Pupils and teachers alike were really interested to hear more about health psychology, having previously not heard of psychology other than in a mental health context.
As a volunteer at the event, I found it really inspiring to see young people engaging and starting to think about taking ownership of their health behaviours in a more active way - teachers agreed! We all really enjoyed the event and look forward to many more.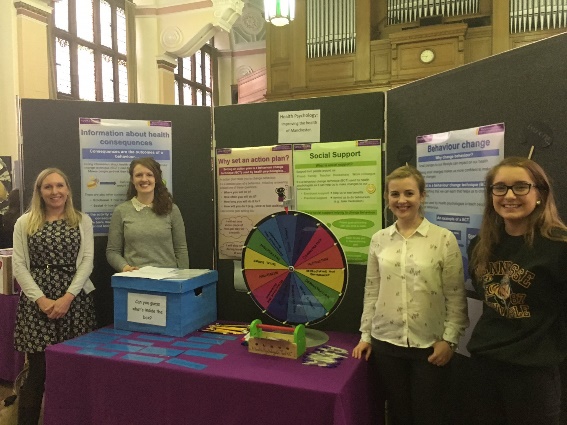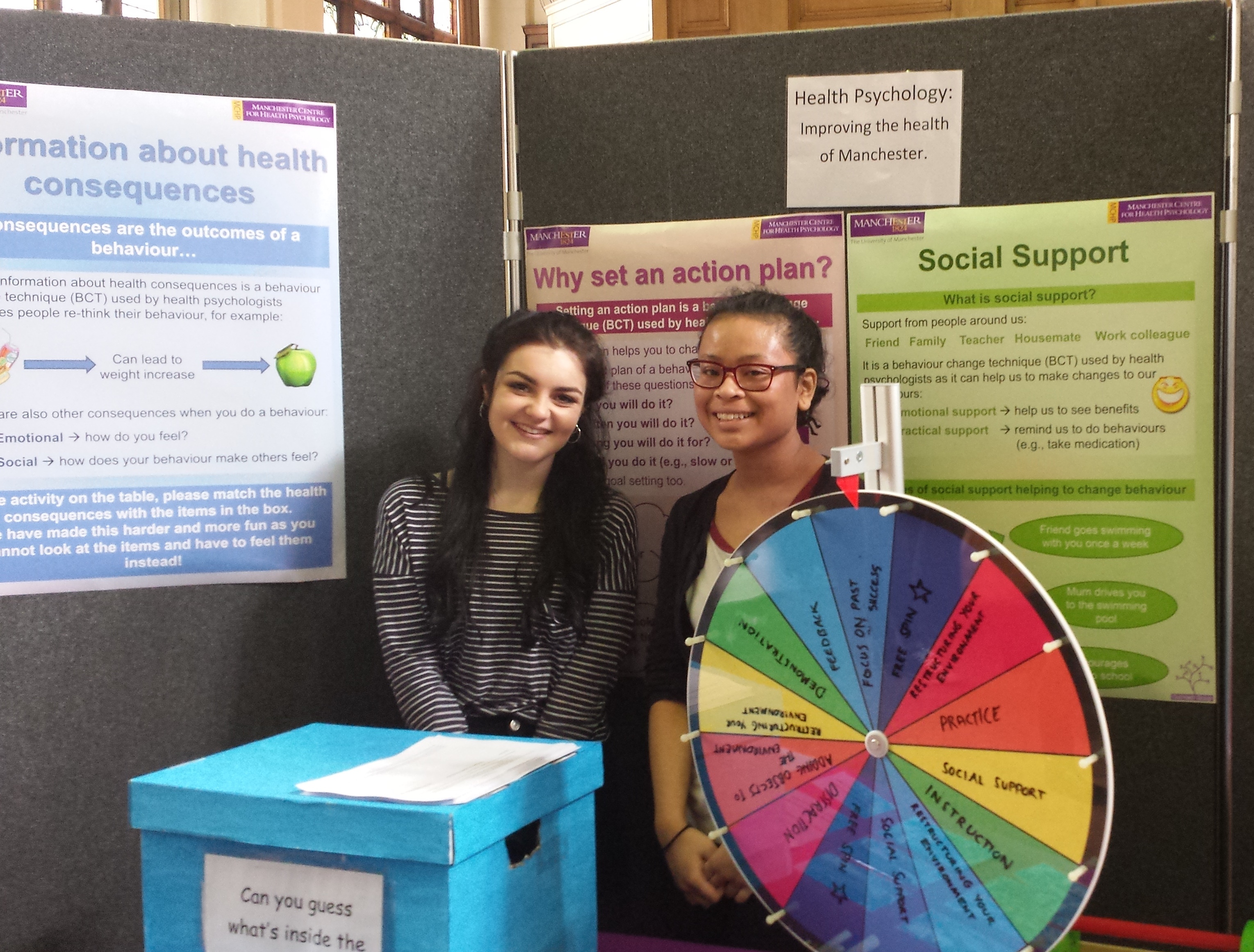 Words by Faye Johnson (MSc Health Psychology student)
Photos by Debbie Smith and Kiera Bartlett
"Help yourself be healthy" at The Whitworth Art Gallery
ESRC Festival of Social Science
12th November 2016
At this family-fun day, members of the Manchester Centre for Health Psychology introduced attendees to the psychological aspects of health and illness, and how psychology is used to help people live healthier lives. Hands-on activities included snakes and ladders, a photo booth, a "Wheel of Fortune" style spinning wheel, a mini ball pit, and facial morphing technology, each exploring different health behaviours and techniques for improving people's health.
Read the full blog written by our student volunteers here:
http://www.esrcmanchesterfest.ac.uk/events/help-yourself-to-be-healthy/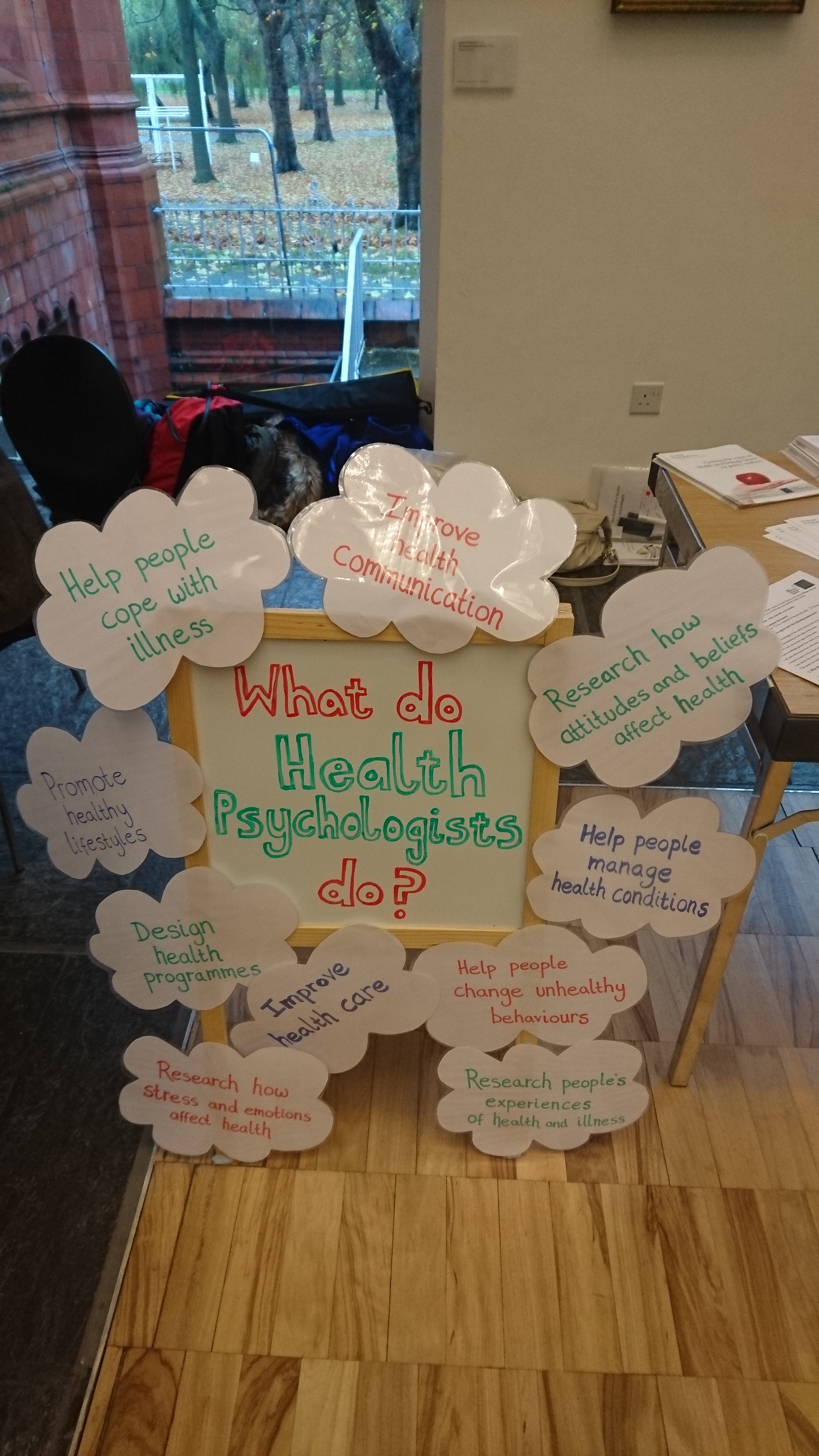 Photo by Elaine Cameron
"Science Uncovered" at Manchester Museum
European Researchers Night 2016
6th October 2016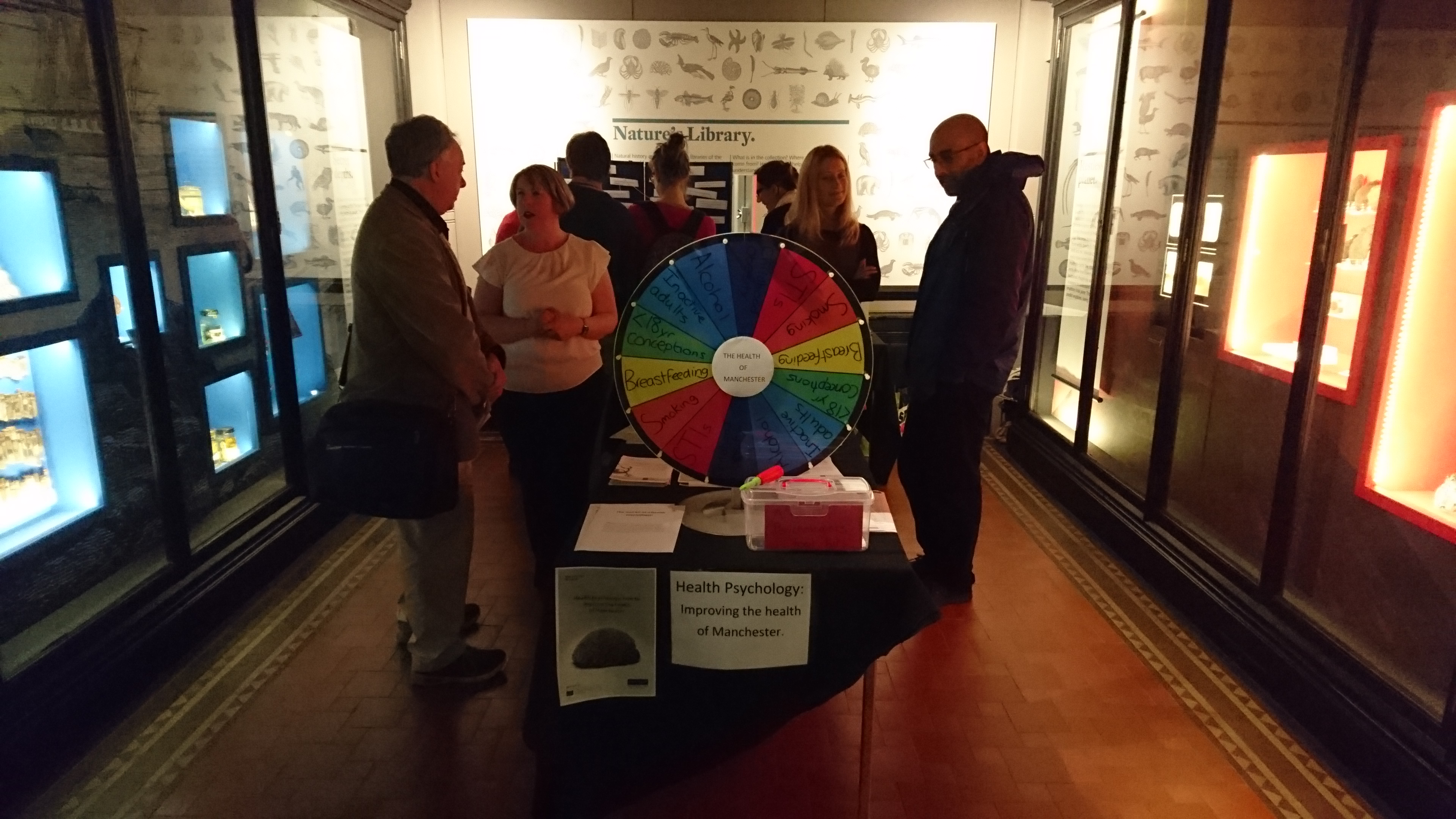 Last month saw the 11th annual European Researchers Night on September 30th. Over 250 cities held simultaneous events to help people learn more about research in an informal and interactive way. Manchester Museum invited researchers from across the university to their Science Uncovered event to take over the museum after hours and speak with the public about the innovative research happening in Manchester.
The stream of visitors to the Manchester Centre for Health Psychology (MCHP) table enjoyed spinning the Wheel of Health to find out about current health priorities in Manchester, and discussing how health psychology researchers use different behaviour change techniques to address them. We also helped people to form their own implementation intentions to increase physical activity and explained how these if-then plans work to bridge the gap between peoples intentions and actual behaviours.
Being involved in the event gave us the opportunity to showcase the behaviour change research going on at MCHP and hear different peoples perspectives on what health is, and what is important to them in terms of research, health, and healthcare. The wide ranging discussions we had with visitors on the night emphasised how engaged people are with the research we are doing at MCHP. Amongst other things we discussed determinants of health behaviours, cultural differences across Manchester, and how health psychology researchers work with individuals, communities and policy makers to improve health and healthcare.
Visitors came to speak to us for all kinds of reasons; some were interested in hearing about careers in health psychology, others wanted to know what research could tell them about health issues and behaviours that were directly relevant to them. Some people wanted to learn more about how to incorporate behaviour change techniques into their own work as GPs, council workers or conservationists, and others just wanted to hear what health psychology is all about.
We had a fantastic time discussing the research we're doing at MCHP and hearing what the people of Manchester think of it. We're looking forward to more events like this in the future!
Words by Kiera Bartlett
Photo by Elaine Cameron