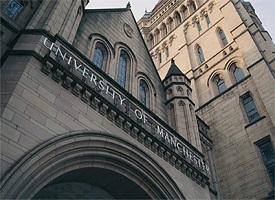 Who are we?
The Centre for Health Informatics (CHI), led by Professor Iain Buchan, hosts the MRC Health eResearch Centre and is dedicated to world-leading health informatics research to advance data-intensive health science and care. This provides a centre of excellence for North England, including the research-focused universities and major NHS organisations of the region.
See: About us to find out more about the centre and our working relationships
Mission
Harnessing computational thinking for the public's health.
This mission builds on the University of Manchester's long history at the forefront of Computer Science, alongside the largest medical school in Europe, in collaboration with centres of excellence in related academia, healthcare and industry in the North of England.
Research and Education focus
The Centre for Health Informatics provides a focal point for research, education and learning that:
Leads path-finding informatics research for public health benefit across a number of methodological disciplines, particularly health informatics, bioinformatics, biostatistics, computer science and software engineering.
Embeds applied (clinical, public health and health services) research leaders alongside methodologists to drive a portfolio of linked scientific challenges.
Builds regional capacity in health informatics, and capability for data-intensive health science and care, through research-led training and education.
Provides a research and learning environment for problem-solving across disciplines, pursuing usefully complex models of health with novel methodology.
Develops e-infrastructure for health research, connecting a rich variety of investigators with relevant analytical tools and large-scale aggregations of data, in order to support timely and broad-ranging insights.
Develops e-health innovation partnerships with the NHS and industry.
Training and Development
The Centre of Health Informatics has a comprehensive HI learning framework that is developing a multi-skilled community capable of thinking across boundaries to advance health data research.
We have a number of training opportunities including masters level continued professional development courses, PhD studentships and quarterly Health Informatics Meetings (HIM).
Further information can be found on our Training and Development page.