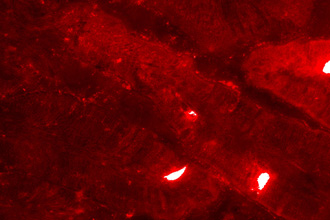 What we do
The Centre for Gastrointestinal Sciences is a collaboration between The University of Manchester, Salford Royal Hospitals NHS Trust and University Hospital of South Manchester.
This highly successful unit comprises academic physicians, surgeons, biologists and health service researchers in conjunction with research practitioners based in primary care.
The centre offers a comprehensive clinical service to the North West region in Gastroenterology and, in particular,
tertiary care specialty services in endoscopy,
upper and lower gastrointestinal surgery,
intestinal failure and parenteral nutrition,
inflammatory bowel disease,
functional bowel disease care and
gastrointestinal physiology.
Research
Our main research areas revolve around whole-body clinical research - enteric neurophysiology and response to food, epithelial biology, and health services research.
Contact us
Address, phone and email
Image (left): Enteroendocrine cells in the villi of the small intestine