EQUIP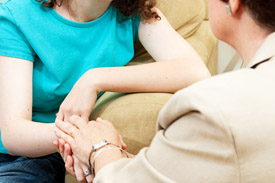 About the study
EQUIP is a collaborative project between the
University of Manchester
University of Nottingham
Nottinghamshire Healthcare NHS Trust
Manchester Mental Health and Social Care Trust.
The EQUIP study team has been awarded nearly £2 million by the National Institute for Health Research (NIHR) to examine ways to improve use and carer involvement in care planning in mental health services.
The project will run for five years (started 1 December 2012) and will benefit service users, carers and mental health professionals.
This website summarises independent research funded by the National Institute for Health Research (NIHR) under its Programme Grants for Applied Research Programme (Grant Reference Number RP-PG-1210-12007). The views expressed are those of the author(s) and not necessarily those of the NHS, the NIHR or the Department of Health.
All studies in the EQUIP programme are reviewed by the National Research Ethics Service prior to recruitment.

EQUIP Programme main findings
Digital Media designers Giant Robot have created a new animation summarising the five year programme of research. Watch the video.