Research licence agreement to access CCMetrics and ACCMetrics software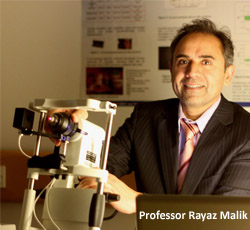 CCM represents a rapid (5-8 minutes) technique to image corneal c-fibres in subjects with peripheral neuropathy. CCM images are captured from the central / peri-central region of the cornea in the sub-basal layer using a Heidelberg HRT III confocal laser scanning microscope. Nerve fibres in CCM images from patients display different lengths, widths, patterns and orientations. In expert manual measurement of nerve fibres three main metrics have been used to date: Nerve fibre length (NFL), Nerve fibre density (NFD) and Nerve-branch density (NBD).
Manual quantification of nerve fibre morphology is highly labour intensive (~10-20 min) and requires a trained expert. With funding from the JDRF, we have developed ACCMetrics, an algorithm to extract and automatically quantify nerve fibres providing an output for all the main nerve parameters either for single images or for multiple images/patient in minutes rather than hours.
In order to fill in the online license agreement form, please create an account
Please email us at CCManalytics@manchester.ac.uk if you need any help.
CCMetrics user instructions
CCMetrics: Overview
CCMetrics is an image analysis software which was originally developed for manual quantification of nerve fibre metrics from IVCCM images (Dabbah et al. 2010). CCMetrics allows quantification of nerve fibre metrics in images obtained using the Heidelberg HRT III corneal confocal microscope.
It quantifies the following nerve fibre parameters from IVCCM images with a field of view of 400x400 um2:
Nerve Fibre Length (NFL): the total length of all nerve fibres in the whole image in mm/mm2
Nerve Fibre Density (NFD): the number of main nerve fibres per mm2
Nerve Branch Density (NBD): the number of intersections between the main nerves and secondary nerves per mm2
Nerve Fibre Tortuosity (NFT)
CCMetrics training
A 2 day practical hands on course has been established in Manchester to train researchers in CCM image acquisition and image analysis. To book yourself on a course please contact us at CCManalytics@manchester.ac.uk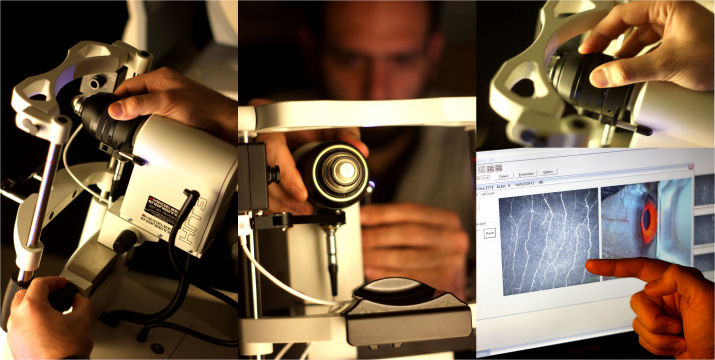 The picture above of Corneal Confocal Microscopy (CCM) was taken by Georgios Ponirakis
ACCMetrics user instructions
ACCMetrics: Overview
ACCMetrics V.2 has been further refined to automatically extract and quantify nerve fibre metrics more consistently in images obtained using the Heidelberg HRT III corneal confocal microscope. The detection of nerve structures in IVCCM images is a challenging task: nerve fibers often show poor contrast on a relatively noisy background due to microscope properties and underlying structures. Automated corneal nerve fiber quantification consists of two steps: (1) IVCCM image enhancement and nerve fiber detection and (2) quantification of the morphometric parameters. A dual-model feature descriptor combined with a neural network classifier was used to train the computer to distinguish nerve fibers from the background (noise and underlying connective tissue). In the nerve fiber quantification process, all the end points and branch points of the detected nerve fibers are extracted and used to construct a connectivity map. Each segment in the connectivity map is then connected and classified as main nerve fibers or branches. Each automated parameter was shown to correlate highly significantly with manual data.
Nerve fibre parameters quantified:
Nerve Fibre Density (CNFD): The number of fibres per mm2.
Nerve Branch Density (CNBD): The number of branch points on the main fibres per mm2 - green points in the annotated image.
Nerve Fibre Length (CNFL): The total length of nerves mm per mm2.
Nerve Fibre Total Branch Density (CTBD): The total number of branch points per mm2.
Nerve Fibre Area (CNFA): The total nerve fibre area mm2 per mm2.
Nerve Fibre Width (CNFW): The average nerve fibre width mm per mm2.
Nerve Fibre Orientation Histogram: The number of occurrences of different fibre orientations covering the range between 0 and 179, at 5 degree intervals.
Nerve Fibre Width Histogram: The number of occurrences of different fibre widths covering the range between 1 and 8 pixels, at 0.2 pixel intervals.
Benefits of ACCMetrics
Quantifies nerve parameters either for single images or for multiple images/patient in minutes compared to the manual assessment, which takes hours.
Allows objective corneal nerve quantification and eliminates inconsistencies.
Produces comparable outcomes across centres.
Enables the deployment of IVCCM for diagnosis in the clinic and as a surrogate end point in clinical trials of peripheral neuropathies.
Validition of ACCMetrics
The evaluation of ACCMetrics was conducted on a database that contained 1494 IVCCM images captured from 186 diabetic patients and 55 age-matched control subjects. ACCMetrics was highly correlated with human expert analysis for the three main corneal nerve morphometric parameters (r CNFD = 0.90, P < 0.0001, r CNFL = 0.89, P<0.0001 and r CNBD = 0.75, P<0.0001) and showed the highest validity in identifying patients "with" or "without" neuropathy based on gold standard measures of peripheral nerve damage and in relation to human analysis (figure 1).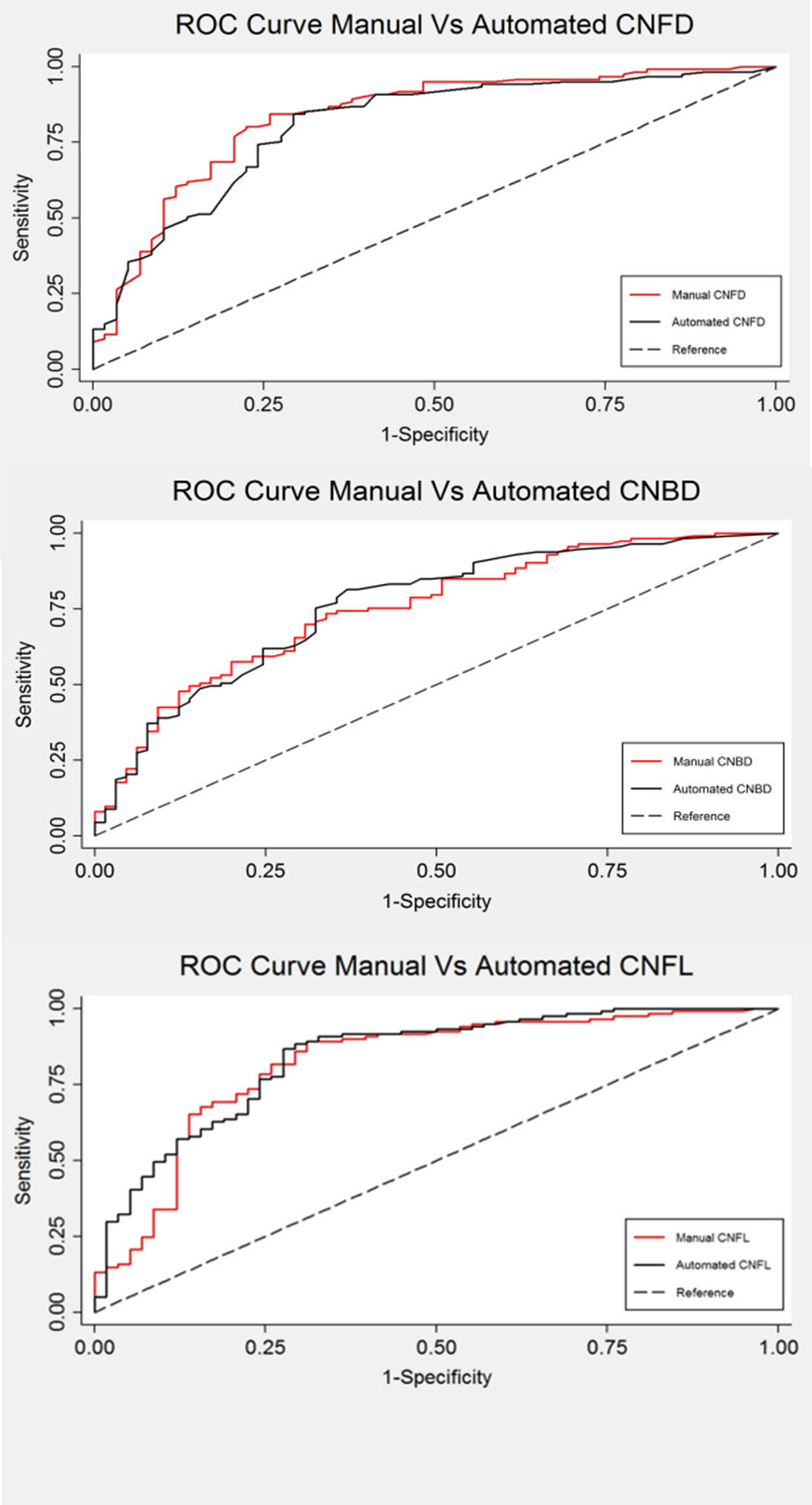 Figure 1. ROC curves for manual (solid black) and automated (red) CNFD (A), CNBD (B) and CNFL (C). CNFD and CNFL showed the highest validity to diagnose diabetic peripheral neuropathy with comparable AUCs (no significant difference). Manual CNFD and automated CNFL were associated with the highest odds ratio.
Automated CNFD and CNFL were consistently associated with the highest sensitivity and specificity to classify patients "with" or without neuropathy.
ACCMetrics installation and Usage Instructions
ACCMetrics installation instructions
Process single CCM image
Process multiple CCM images
Collaborators: Overview
We have helped to establish protocols for IVCCM image acquisition and provided ACCMetrics for clinical trials and research purposes. Collaborators who have used the ACCMetrics are from countries including UK, Canada, Australia, USA, China, Japan, Russia, Germany, Spain and Turkey.
US
Collaborator
Institution
Town
Country
Use of ACCMetrics
Prof. Nathan Efron
QUT
Brisbane
Australia
CCM metrics are being compared to other measures of neuropathy in cross sectional and longitudinal studies
Prof. Henri Parson & Prof. Arthur Vinik
Eastern Virginia Medical School
West Virginia
US
Differentiate between patients who have received active treatment and those who experience painful diabetic neuropathy
Dr. Gulfidan Bitirgen
Meram Faculty of Medicine, Necmettin Erbakan University
Konya
Turkey
Evaluate corneal microstructure in eyes with keratoconus
Dr. Pablo Villoslada
IDIBAPS, Hospital Clinic of Barcelona
Barcelona
Spain
Analyse the dynamics of axonal damage after chemotherapy and identify predictors of neuropathy and nerve regeneration
Dr. Sanjeev Sharma
The Ipswich Hospital NHSTrust, Ipswich
Surrey
UK
CCM comparative values as biomarkers to diagnose and assess progression of neuropathy
Dr. Chenying Yu
Department of Ophthalmology, Peking Union Medical College Hospital
Beijing
China
Assess areas affected by refractive surgery and keratopathy. We noticed that some post-LASIK patients' symptoms of dry eye persisted beyond usual recovery period, and we assumed that the regeneration of corneal nerves might play a role in the development and persistence of postoperative dry eye.
Prof. Gagik Galstyan & Dr. Dmitry Atarshchikov
Endocrinology Research Center
Moscow
Russia
Identify any associations between lesion in retina and extent of small fiber nerve damage.
Dr. Gordon Smith
Division of Neuromuscular Medicine ,University of Utah School of Medicine
Utah
US
CCM metrics are being compared to other measures of neuropathy in cross sectional and longitudinal studies
Dr. Akihiko Ando
Jichi Medical University
Tochigi
Japan
Cross-sectional study assess the association between retinal wall thickness and CCM
Dr Daniele Pacaud
Alberta Children's hospital & University of Calgary
Calgary
Canada
Perform CCM on children with T1 diabetes
Dr. Gene Kim
Robert Cizik Eye Clinic, Medical School at Houston, University of Texas
Houston
Study the effects of different corneal wounds caused by cataract surgery and their effects on the corneal nerve moprhology in the pathogenesis and treatment of dry eyes.
Ms. Jasleen Jolly
Optometry Department, Oxford Eye Hospital
Oxford
UK
CCM assessments on pancreas and kidney, and islet cells transplant patients before and after transplant
Dr. Marc Schargus
University Eye Hospital Bochum
Bochum
Germany
Use CCM to assess patients with neurological and pain related disease.
Dr. Michael Brines
Araim Pharmaceuticals Inc
New York
US
Use CCM to analyse the potential efficacy of ARA 290 on the re-growth of small nerve fibre in patients with diabetes or sarcoidosis
Dr. Chintan Malhotra
PGIMER
Chandigarh
India
Use CCM to study nerve fibre alterations in different type of neuropathies (including diabetic neuropathy).
Dr. Szalai Eszter
Department of Ophthalmology, University of Debrecen
Debrecen
Hungary
We are comparing different corneal parameters of young T1DM patients with and without diabetic retinopathy.
Dr. Sonja Puttgen
German Diabetes Center at Heinrich Heine University
Dusseldorf
Germany
We use ACCMetrics on a cooperation with Prof. Malik from your university regarding the differences between painful and painless diabetic polyneuropathy in the PROPANE study.
Dr. Mark Stettner
Department of Neurology, Heinrich-Heine-University
Heinrich-Heine
Germany
Study chronic autoimmune inflammatory disorders of the peripheral nervous system
Dr. Stuti Misra (clinician) & Dr. Jason Turuwhenua (Engineer)
Department of Optometry and Vision Science, University of Auckland
Auckland
New Zealand
Quantify the phenotypic characteristics of the cornea by CCM in patients with a new diagnosis of keratoconus
Mr Karsten Winter
University of Leipzig
Leipzig
Germany
Mrs. Milla Rosengård-Bärlund| Folkhälsan
Institute of Genetics, Biomedicum Helsinki
Helsinki
Finland
Study the significance of low baroreflex sensitivity as a marker of autonomic dysfunction on a 10-year follow-up visit of 140 patients.
Mr. Kirwan Asselineau
LSMU, Eiveniu gatve
Kaunas
Lithuania
A 3 year research study which aim is to establish a baseline in a healthy population of sub-basal nerve plexus characteristics
Prof. Antonio Miguel Morgado
Department of Physics, University of Coimbra
Coimbra
Portugal
Analyse CCM images of the sub-basal nerve plexus and use that analysis as a reference in the development of peripheral diabetic neuropathy assessment methods based on image texture analysis.
What collaborators say about the performance of the ACCMetrics
"We have applied the ACCMetrics to quantify nerve fibre morphology in the sub-basal nerve plexus to assess neuropathy in patients undergoing chemotherapy and patients with fibromyalgia. ACCMetrics is very easy to use and provides very useful information" Dr Pablo Villoslada
The August Pi i Sunyer Biomedical Research Institute
"We have applied the ACCMetrics to quantify nerve fibre morphology in patients with keratoconus. The new version of ACCMetrics works perfectly and quantifies the nerve fibers and branches excluding the dendritic cells; which, in my opinion, is the most significant improvement comparing with the previous version" Dr Gulfidan Bitirgen Meram
Necmettin Erbakan University
"We have used the ACCMetrics to compare CCM with modified LDIflare to determine their comparative values as biomarkers to diagnose and assess progression of small fibre neuropathy" Dr Sanjeev Sharma
The Ipswich Hospital NHS Trust