For the public
The Emotional Cognition Lab is involved in a range of outreach and public engagement activities.
Science Spectacular, Manchester Science Festival
Every year, various organisations come together and hold workshops, displays and activities across the region. The idea is for people of all ages to come together and learn about and gain an interest in science. In 2015 the festival runs from 22nd October -1st November. See the website for more information.
Jennifer Hanratty took part in the Science Spectacular as a science busker on Saturday 27 October to help launch the Manchester Science Festival. She said "it was a fantastic day and a great event to be part of. The community of researchers from the university put on a great event and adults and children alike were entertained and inspired by the happenings. I look forward to putting my new busking skills into practice to engage people with great the work we do in our lab."
Since then, we have been involved in every Manchester Science Festival.
Big Brain Summer School
Every year, lecturers and students from the School of Psychological Sciences deliver a summer school for Year 9 students, with the aim of engaging them in new learning experiences and areas of specialist study at a pivotal time in their school careers. Topics covered include the senses, communication, clinical psychology, and decision making.
Lab members lead a session on decision making, challenging students to think about how their thoughts and feelings influence the decisions they make. The session is run with the hope that knowing more about how people make decisions will help these young people make better decisions in their own lives.
Café Scientifique
The Cafe Scientifique is a global forum for debating science issues. Science cafés take place regularly around the world, comprising of hundreds of small local meetings, where interested people meet for discussion about some topic in science and technology as scientists do. Meetings take place in cafes, bars, restaurants and even theatres, but always outside a traditional academic context.
Bo Yao now has sole responsibility for Manchester Cafe Scientifique – where for the price of a cup of coffee or a glass of wine, anyone can come to explore the latest ideas in science and technology. The Café is committed to promoting public engagement with science and to making science accountable.
Cafe Scientifique takes place once a month in Manchester, each session is on a different area of science. Please come along and join us to learn and discuss. For information of when and where we meet, please visit the website here
Nuffield research placements
We are accepting applications for Nuffield summer placements. This site was partly built through one of these placements, judge for yourself!
Deciding for wellbeing: Decision-making science in action
In 2010 the Emotional Cognition Laboratory hosted a one day event. 'Deciding for wellbeing' was designed to bring academics and practitioners together to share experiences and ideas about decision making, and how to best support young people in making important decisions. Presentations described the state-of-the-art in decision-making science, explaining how it can be applied in the National and Local setting to support young people through the decision-making process.
Sustainability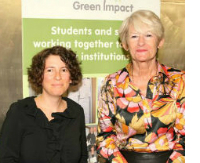 Dr Talmi is passionate about environmental sustainability and served as an 'Enthusiast' for the School of Psychological Science in 2008-2013.
The University has a network of Sustainability Enthusiasts, who act as a figurehead for sustainability in their area – visit the Environmental Sustainability Website for news, upcoming events and how you can get involved.
Dr Deborah Talmi pictured with the President and Vice Chancellor Professor Dame Nancy Rothwell, celebrating the School of Pyschological Sciences Silver Award from Green Impact. See more about Green Impact and our awards.
Useful links