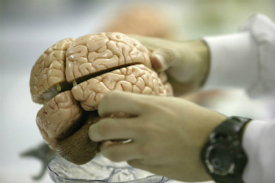 What we do
The lab carries out research on the interplay between emotion and cognition - feeling and thinking. Our research is focused on the impact of emotional value and how it is represented in the brain.
Why are emotional events remembered better than neutral ones?
Does emotional memory in humans function in a similar way to the way it functions in animals?
How does the brain computes the value of opportunities that are both good and bad?
These are just some examples of the questions about emotional cognition that we strive to answer in our lab.
Who we are

The Emotional Cognition Lab is part of The University of Manchester's Division of Neuroscience and Experimental Psychology, led by Lab Director Dr Deborah Talmi.
How you can get involved

The Lab invites members of the public to join our research. We welcome opportunities for working together with our local community and other research users.
Latest news from the lab
Dr. Talmi is spending this year on sabbatical as a Visiting Fellow at the Princeton Neuroscience Institute, Princeton University.
Dr. Talmi has co-convened a workshop on 'Error-driven memory' in Cosyne 2017.
Welcome Martina Riberto, who won a UK-Weizmann studentship to work on judgements of similarity between emotional experiences.