National Confidential Inquiry into Suicide and Homicide by People with Mental Illness
As the UK's leading research programme in this field, the Inquiry produces a wide range of national reports, projects and papers – providing health professionals, policymakers, and service managers with the evidence and practical suggestions they need to effectively implement change.
WHAT'S NEW - Inquiry update
***SAVE THE DATE***
NCISH will be holding its annual report launch conference on 10th October 2017 at MANDEC. For details of the event click here
February 2017
*** Updated version of our toolkit 'Safer Services: A Toolkit for Specialist Mental Health Services and Primary Care' ***
In this updated version of our toolkit for specialist mental health services we have formulated the key elements of safer care in mental health services and in the wider health system – which are based on evidence from 20 years of research on patient safety – into quality and safety statements regarding clinical, organisational and training aspects of care.
To download the toolkit click here
October 2016
***6th October, new Inquiry report published today***

For a copy of the report click here (pdf, 5mb)
For a copy of our infographics sheet for key messages click here (pdf, 899kb)
For a copy of our service user information sheet click here (pdf, 113kb)
Making Mental Health Care Safer: Annual Report Key Findings video click here
Making Mental Health Care Safer: 20-year Review video click here
Report presentation slides
Professor Louis Appleby, Annual report and 20 year review click here
Professor Nav Kapur, 20 years of suicide research click here
Professor Jenny Shaw, 20 years of homicide research click here
Our Annual Report and 20-year Review 2016 presents findings from 2004 to 2014, and reviews 20 years of data collection. It provides the latest figures on suicide, homicide and sudden unexplained deaths and highlights the priorities for safer services. Key messages include:
There are now around 3 times as many suicides by CHRT patients as in in-patients. The crisis team is now the main setting for suicide prevention in mental health
Many people who died by suicide had a history of drug or alcohol misuse, but few were in contact with specialist substance misuse services. Access to these specialist services should be more widely available, and they should work closely with mental health services
More patients who died by suicide were reported as having economic problems, including homelessness, unemployment and debt
There has been a rise in the number of suicides by recent UK residents: those who had been in the UK for less than 5 years, including those who were seeking permission to stay
There are a number of ways in which mental health care is safer for patients, and we now know what services can do to reduce suicide risk:

Safer wards
Early follow-up on discharge
No out-of-area admissions
24 hour crisis teams
Outreach teams
Dual diagnosis service
Family involvement in 'learning lessons'
Guidance on depression
Personalised risk management
Low staff turnover

In England the number of homicides by people with schizophrenia appears to have risen since 2009, though the numbers are small
Most patients who committed homicide had a history of alcohol and drug misuse. This was found in all UK countries but was more common in Scotland and Northern Ireland
May 2016
***25th May, new Inquiry report published today***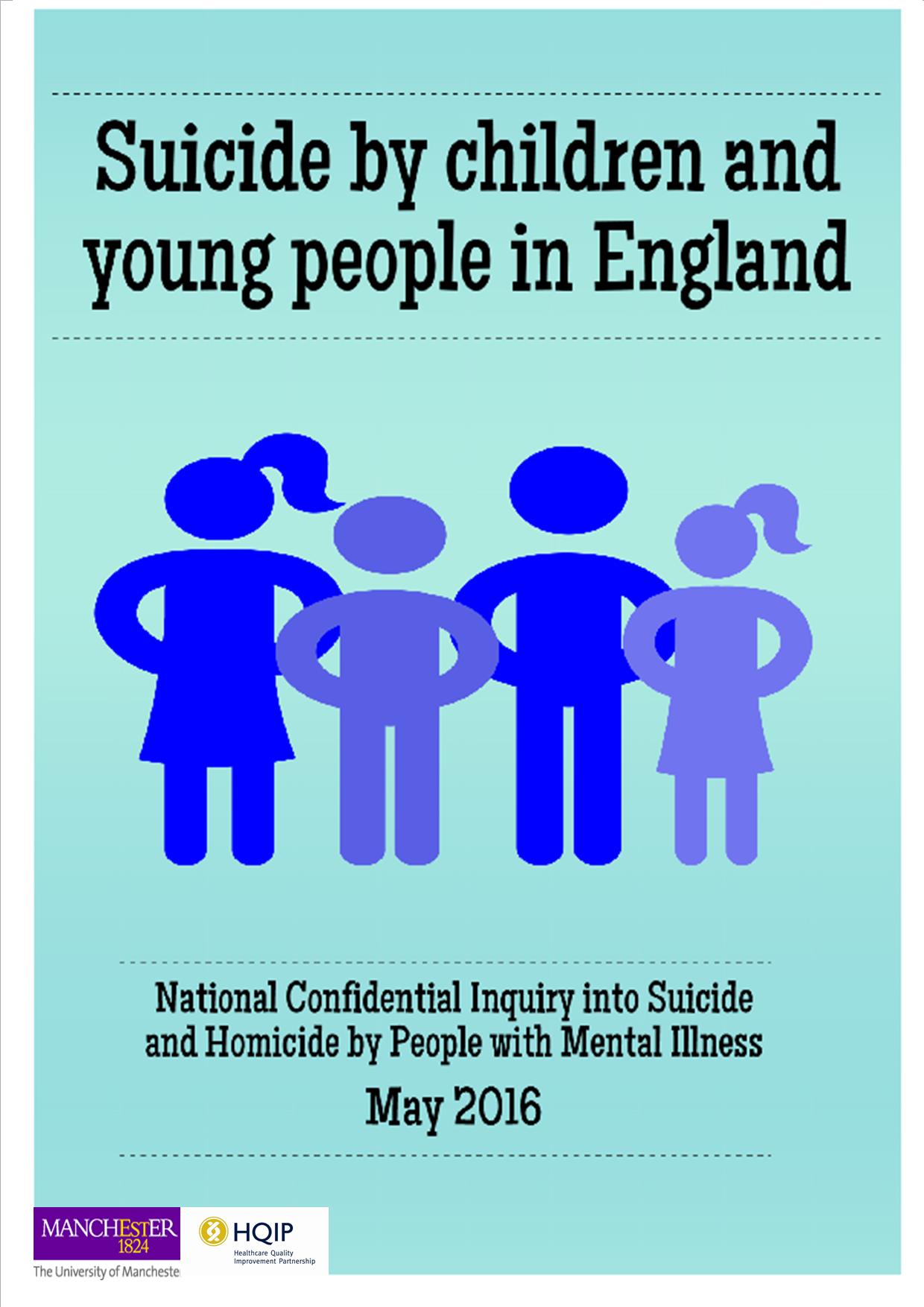 We carried out an examination of suicides by people aged under 20 years who died between January 2014 and April 2015 in England. This is the first phase of a UK-wide investigation into suicides by people aged under 25. We collected data from a range of investigations by official bodies in England, including coroners, local authorities and health services, and identified relevant antecedents prior to suicide. There were 145 suicides and probable suicides by young people in England in the study period. The suicide rate at this age is low but escalates in the late teens. Our findings suggest that numerous experiences and stresses are likely to have contributed to suicide risk in children and young people. Many young people who die by suicide have not expressed recent suicidal ideas, but their absence cannot be assumed to show lack of risk. Improved services for self-harm and access to CAMHS is crucial, but the antecedents identified in this study show that schools, primary care, social services and youth justice also have an important role to play.
For a full copy of the report click here. (PDF, 600KB)
For a copy of the infographics sheet with key messages click here. (PDF, 644KB)
To see a video of Professor Louis Appleby presenting the key findings cilck on the following links: Key findings. What do our findings mean for prevention?
For a copy of the press release click here. (DOCX, 26KB)
For link to blog click here.

A linked academic paper 'An investigation into suicide in children and young people in England: a consecutive case series' has been published in The Lancet Psychiatry click here.
See also: Centre news
Stakeholder survey 2014
The survey will only takes a few minutes to complete and we value your opinion. Please give us your
feedback
on our research and how we share our findings.
Last year's survey findings:
your views on our research
Current studies
Features of mental health organisations and suicide rates
This study will investigate a range of organisational characteristics of mental health service providers to establish which characteristics are associated with reduced suicide rates. This study will report in February 2015.
In-patient suicide whilst under non-routine observation
Thank you to all service users, consultants and nurses working in mental health that shared their experience in our online survey. In this study we are examining why suicide deaths occur on in-patient wards whilst individuals are under observation. This study will report in March 2015.
Reports on recent findings
Suicide in primary care in England: 2002-2011 (March 2014)
Suicide risk increased with increasing GP consultations; non-attenders were also at higher risk. Other markers for risk and messages for primary care services identified. Read summary and download full report. Professor Louis Appleby (Director) presents the main findings and implications from the research.
Report videos:
Patient suicide: the impact of service change. A UK wide study (November 2013)
Report showing that the implementation of key service recommendations can reduce suicide rate within mental health services.
Quality of risk assessment prior to suicide and homicide - A pilot study (June 2013)
Report describing the development of a framework for assessing the quality of risk assessment prior to suicide and homicide. In around one third of a sample of Inquiry suicide and homicides the quality of prior risk assessment was considered not satisfactory.
National Confidential Inquiry Annual Report
The findings from our core research programme providing an in-depth analysis of the changing patterns and risk factors behind cases of suicide and homicide by people in contact with mental health services and of cases of sudden unexplained death amongst psychiatric in-patents.
Annual Report 2015 (PDF)
Latest research papers
Our research papers focus on specific issues across a wide range of topics and discuss the clinical implications of our findings. See our publications section.

Toolkits
Our toolkits help health professionals and managers apply the Inquiry's research findings as they improve service safety and reduce risk.
Safer Services. A toolkit for patient safety review.
'Like' us on Facebook to get our latest research findings