From Grief to Hope
***************************************************************************
18th November 2020
NEW report published on the impact of suicide bereavement in the UK
***************************************************************************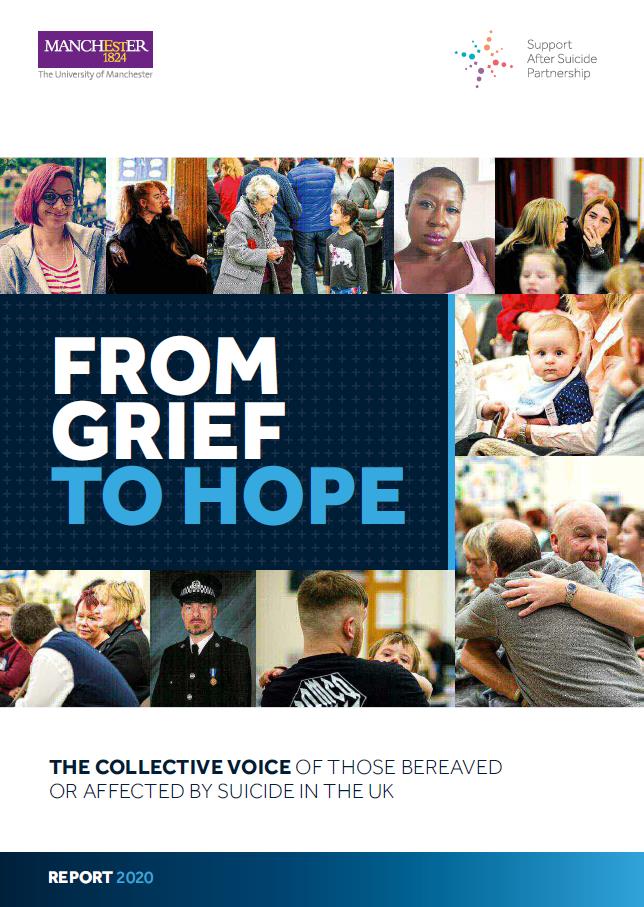 We conducted one of the largest studies of suicide bereavement undertaken, either in the UK or internationally. The report offers valuable insight into the lived experience of people bereavement or affected by suicide, which can contribute to the development of a new postvention service model.
The findings show suicide impacts people wider than the family circle, for example friends, colleagues in the workplace and frontline staff. A third considered taking their own life, a third reported they engaged in high risk behaviours relating to as alcohol and drug misuse, reckless financial behaviour, suicide and self-harm, sexual promiscuity, and road safety and two thirds felt the provision of services in their local area to be inadequate.
This report provides a compelling case, not only for crisis care, but also for the long-term support for those bereaved or affected by suicide. Services should be more proactive and seek out the bereaved rather than waiting for people to ask for help and support.

For a full copy of the report CLICK HERE
Please cite this report as:
McDonnell S, Hunt IM, Flynn S, Smith S, McGale B, Shaw J (2020). From Grief to Hope: The Collective Voice of those Bereaved or Affected by Suicide in the UK. Manchester: University of Manchester. November 2020.