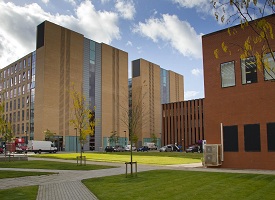 About the centre
The Centre for Biostatistics at Manchester has developed an international reputation for innovative statistical research, excellent teaching and interdisciplinary collaboration since its inception as the Biostatistics Group in 1997.
The Centre is the professional focus for all medical statisticians within the Faculty of Medical and Human Sciences, and also holds half-yearly, half-day public seminars.
The Centre is located in the Jean McFarlane Building, shown above, on the main University campus.
Our research
Find out more about our UK Medical Research Council and National Institute for Health Research funded methodology research.
Members of the Centre are investigators and contribute to:
Teaching and statistical support
Information about our undergraduate and postgraduate teaching, short courses and free training workshops to disseminate new statistical methodology.
The Centre also hosts the Greater Manchester NIHR Research Design Service