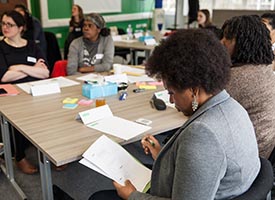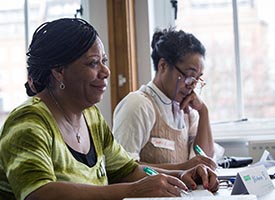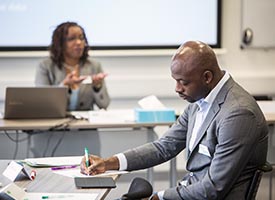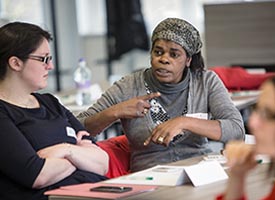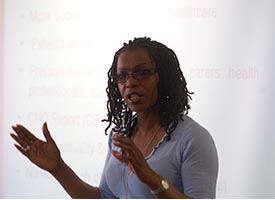 About ReACH
ReACH is dedicated to facilitating research and scholarship that improves the health and wellbeing African Caribbean people.
ReACH is headed by Dr Dawn Edge, Senior Lecturer at The University of Manchester and Researcher at Greater Manchester Mental Health NHS Foundation Trust.
Dawn was Principal Investigator on a National Institute for Health Research (NIHR) Health Service and Delivery Research (HS&DR) funded study to develop Culturally-adapted Family Intervention (CaFI) for African Caribbean people diagnosed with schizophrenia and their families. This study started Sept 2013 and ran for 3 years.
The team have received further funding to refine and adapt CaFI with African families. Following this refinement work, CaFI will be tested with African and Caribbean service users and their families in 6 NHS sites across England. The project will start in April 2019.
Dawn and her team were awarded a NIHR Research For Patient Benefit (RfPB) grant to fund a project titled, 'Co-production and evaluation of an e-learning resource to improve knowledge about schizophrenia and engage with services in African Caribbean families' (CaSPER). The team developed and tested the resource together with African Caribbean families. This study run from May 2015 until August 2018.
A number of related PhD and Masters student projects are being conducted alongside these studies.
To find out more, please see:
What is CaSPER?
CaSPER was a research study that developed a culturally-appropriate e-learning resource about schizophrenia for, and with, African Caribbean families and community members. We created the resource to improve knowledge and attitudes about schizophrenia.
CaSPER was developed together with the African Caribbean community, academics and clinicians.
Twenty-three volunteers, who had a family member of Caribbean origin and diagnosed with schizophrenia, took part in testing the CaSPER resource. We found that CaSPER...
improved relatives' & carers' knowledge about schizophrenia in the short-term
was considered culturally-appropriate to meet African Caribbean families' learning needs about schizophrenia
could be made even better with some tweaks, such as inclusion of a discussion board or embedding more video content
What is CaFI?
The purpose of this study was to find out if it was possible to develop and test a new form of talking treatment to meet the specific needs of African Caribbean people diagnosed with schizophrenia and their families.

We also wanted to find out if the new therapy would be acceptable to service users, their families and health professionals.

To do this:

We worked with a range of people members of Manchester's African-Caribbean community, including service users, families, and community members
We also worked with advocacy groups like African & Caribbean Mental Health Service (ACMHS) and health professionals in the NHS
Together, we developed Culturally-adapted Family Intervention (CaFI) talking treatment
We found that:

Service users, family members and the staff involved all liked CaFI.
Nearly all the families who started CaFI completed the therapy
Nearly everyone said they'd recommend it to family and friends

We now have more funding to test CaFI in other cities and with both Black African and Caribbean people. This project will start in April 2019.
You can read more about the CaFI study in our summary.
Please contact Dr Dawn Edge (Lead Researcher) if you want to find out more. Please also see our 'Get Involved' page.
Patient and Public Involvement (PPI)
We are committed to involving service users, carers and community members in our research. Please see our PPI page for more information.
Would you like to take part or get involved?
If you would like to find out more about our research or are interesting in taking part, please see how to get involved or contact the research team.
Tweets by @EdgeDawn
The study has ethical approval from National Research Ethics Service Committee North West - Greater Manchester East. REC Ref: 13/NW/0571
This project was funded by the National Institute for Health Research (NIHR) Health Service and Delivery Research Programme (HS&DR) (project number: 12/5001/62).
The views and opinions expressed therein are those of the authors and do not necessarily reflect those of the HS&DR, NIHR, NHS or the Department of Health.